Whatever the job and however demanding the application, we have a system ready to handle it. At Quincy Compressor, we are one of the most established manufacturers of industrial-strength air compressors in the world. We have over 100 years of experience serving the commercial and industrial communities with cost-effective products and services. If you're located in or near San Marcos, partner with us for a solution built to meet your needs.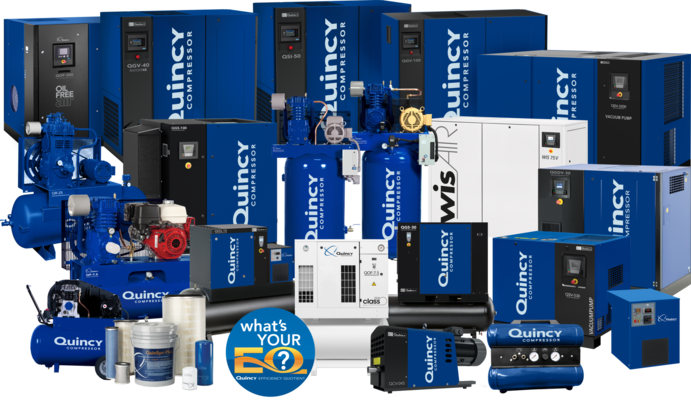 Browse an Impressive Selection of Air Compressors in San Marcos, Texas
Our location serving San Marcos, Texas, is your source for dependable products built to the highest quality standards. Our team has the skill and expertise to compare your needs against our extensive product line to find the right type and model system and get it running in your facility.
The full Quincy line includes systems suited for virtually any application, with an expansive selection that includes:
Our products are made with pride in the USA, held to the highest quality standard and backed with the industry's leading extended warranties. We're confident your system will deliver the power and performance you need day after day. If you have a special request, let us know. Custom design services are available, and we also offer expert installation.
We'll Help You Take Care of Your Compressor
Quincy of Hays County is your full-service air compressor company in San Marcos, Texas. Our area direct location has the services and supplies you need to provide your system with all the maintenance and repair solutions you need, whether you prefer to perform scheduled services yourself or would like our experts to handle things for you.
We carry genuine parts and fluids for preventive services, offer several maintenance agreements for ongoing care and provide emergency compressor repair in San Marcos and the surrounding area. Our experts will help you explore the best solutions to ensure you get the most power, value and performance from your system.
Get Started on a Custom Quote
We are your direct source for Quincy air compressors in San Marcos, Texas, and our team is ready to find the right solution for you. Contact us today to request a quote tailored for your business. To speak to a representative over the phone, please dial 830-606-1240.