There are countless commercial and industrial applications for air compressors. You can find them in food and beverage, automotive, climate control, energy, manufacturing and numerous other industries, and we manufacture systems suited for them all.
At Quincy Compressor, we've been helping our customers become more productive and achieve greater efficiency for over 100 years. Our direct location near Temple, Texas, is your top source for the industry's best air compressors and superior service.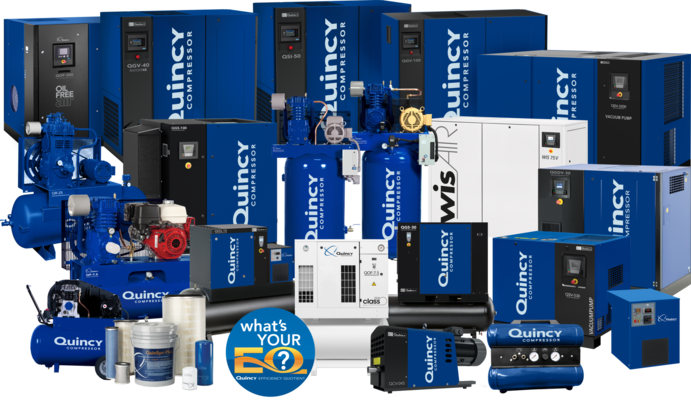 We Carry the Best Selection of Air Compressors in Temple, Texas
Talk to our knowledgeable team about the work you do and what you need to accomplish. Our experts will work hard to pair you with an appropriate system from our extensive product catalog, with options that include:
Everything You Need for Proper System Care
Taking care of a Quincy compressor in Temple, Texas, is easy with direct support from the industry leader. We are positioned right here in your local area. Our team has multiple solutions available, whether you're performing services in-house or prefer to have our trained technicians manage things for you.
Industrial air compressor parts for sale: If you prefer to perform services yourself, our area location is where you will find the genuine parts and fluids you need. A skilled representative will provide you with expert assistance finding the right components, helping you complete a fast and cost-effective purchase.
Professional maintenance services: If you're looking to simplify system maintenance, we have solutions to match your budget. Benefits include paying a set parts cost, accessing on-site support, getting more system uptime, keeping to a schedule and improving your bottom line.
Mobile air compressor repair: If the unexpected happens and your compressor goes down, call the experts you can rely on to set things straight. We provide industrial compressor repairs in Temple, Texas, and throughout the local area. Our team is on-call 24 hours per day to ensure you experience minimal downtime.
Industry-Leading Machines, Superior Customer Service and Dependable Product Warranties
Our company has a long and impressive history providing businesses of all sizes with powerful systems that are built to last. At Quincy, we place a continuous focus on quality. Our products are made using premium parts and components and assembled by skilled American workers.
We're confident our air compressors will meet your specifications, beat your expectations and deliver reliable performance day in and day out. We believe in them so much that we support our machines with the most comprehensive extended warranties available, including support for parts and labor.
Contact Quincy for Your Air Compressor Needs in Temple, TX
We are your local air compressor company in Temple, Texas. Connect with us today to browse our product line and speak with one of our experts.
If you're ready to get started or would like more information, message us using our contact form or by dialing 254-776-5122.