If compressed air is an important utility for your business, Quincy Compressor is the local partner you need with an authorized store location here in the area. We are proud to serve the Woodstock region with sales and service for the world's leading compressor systems. Our team can help you find everything you need to increase your productivity to the next level without going over budget.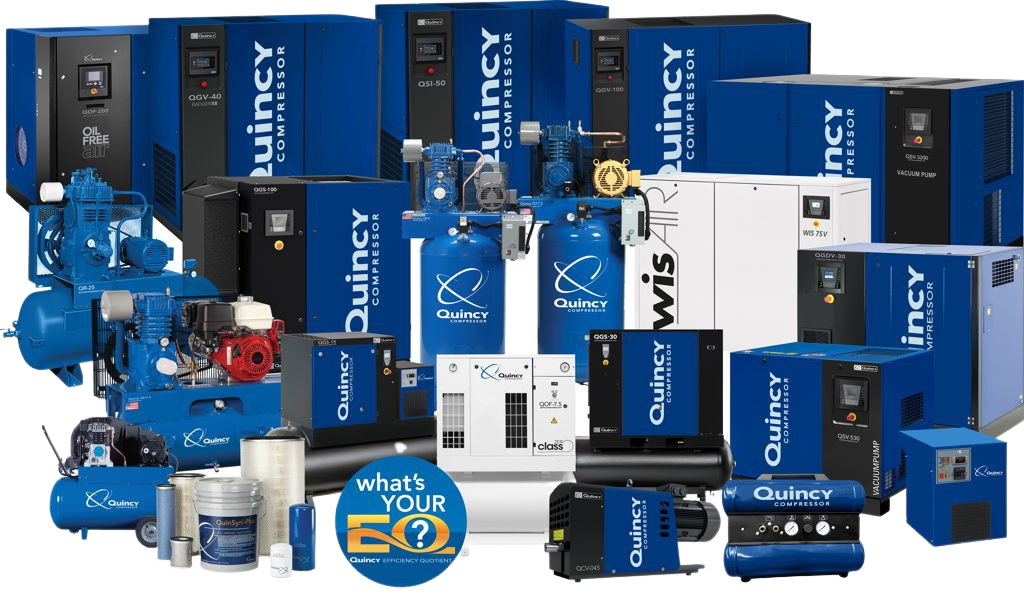 Browse the Biggest Selection of Air Compressors for Sale in Woodstock
Quincy systems perform essential roles across a wide range of commercial and industrial applications. We have options suited for companies of all sizes, ranging from small businesses up to major corporations, providing everyone we serve with the same superior level of dedicated customer care.
We manufacture our compressors in the USA using quality materials consistent processes and strict quality controls. Our units are made to last for years and come supported by some of the industry's most comprehensive extended warranty packages. We'll help you find and configure the right model system.
Our regular product catalog includes an impressive lineup of portable and stationary units, including:
Professional turnkey compressor installation and calibration are available on all Quincy systems. We also offer custom compressor design services for overcoming unique facility challenges.
Buy Compressor Parts, Upgrades and Accessories
As a leading supplier of new air compressors, we also carry all the products you need to care for your system and modify it to meet your needs. Additional items we have for sale include:
System remote monitoring technologies.
AIRnet aluminum compressor system piping.
Filters, dryers and condensate management products.
Genuine Quincy parts and consumable maintenance fluids.
Get Comprehensive Air Compressor Service in Woodstock, Georgia
Our compressors will provide you with reliable and consistent performance year after year. You can help ensure yours delivers the power and uptime you need with several solutions for your ongoing system care:
Parts plans: If you perform services in-house, we can help you save time and money. Our Parts Guardian plans provide you with regular deliveries of the supplies you need and lock you into today's prices, keeping overhead low and making it easier to plan.
Service plans: If you want to save time and effort caring for your machine, ask about enrolling in a service plan. Several service agreements are available. Each provides you with comprehensive system care from a trained technician, plus other plan-specific benefits.
Repair services: Keeping your system in peak condition is the best way to avoid needing repairs, but it's still possible to experience unexpected downtime. If you do, call us. We provide air compressor repair near Woodstock, GA, 24 hours a day, seven days a week.
Get Started Today
Connect with an air expert today to start on a quote and get more information about the products and services we offer. Assistance is available at our store location, through our contact form or through our phone line at 855-978-4629.