Every air compressor requires part replacements throughout its lifetime, no matter how robust the solution. However, you have an important decision to make when replacing these components — where to buy them. While this choice may seem inconsequential, the replacement parts you choose can have vastly different outcomes. That's because not all compressor components are created equal.
If you're not sure where to buy air compressor parts, you can narrow your search down to two options — your compressor's original equipment manufacturer (OEM) or big-box retailers like Home Depot or Walmart.
3 Reasons to Purchase Air Compressor Parts From the Original Manufacturer
When deciding between purchasing components from a box store or manufacturer, going to your OEM is your best option. Buying air compressor parts and accessories from equipment manufacturers comes with many significant benefits for your organization that you can't get with aftermarket parts.
1. Quality
Original compressor parts are made specifically for your air compressor. That means they're manufactured to match your compressor's unique quality and performance standards.
When you switch out worn parts with genuine components from an OEM, you can expect them to function exactly as the ones you're replacing. This sense of predictability eliminates the risk of improper operation or poor quality that often comes with aftermarket parts.
2. Performance
Since genuine equipment parts are designed with your compressor in mind, they deliver better performance and more reliable operation than aftermarket solutions. As a result, OEM components minimize the risk of breakdowns, resulting in greater productivity and uptime for your company. Due to their increased efficiency, genuine parts also reduce the frequency of pressure drops, resulting in greater energy savings.
3. Cost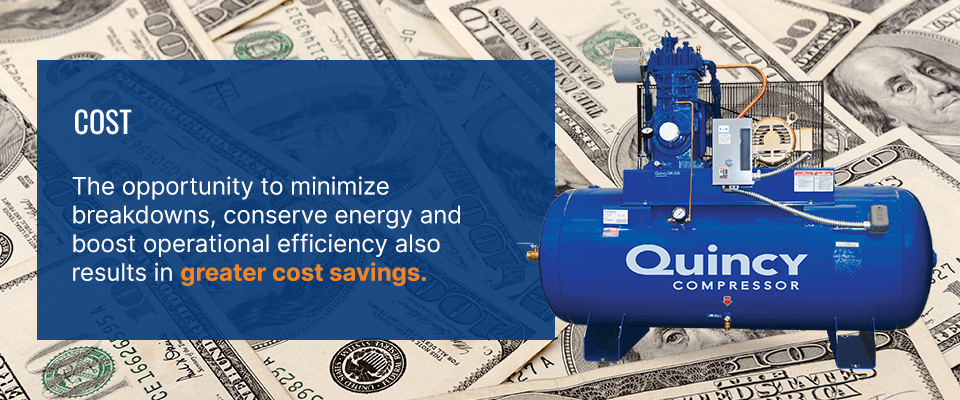 While OEM parts may come at a higher purchase price than aftermarket parts, they'll save you more money in the long term. They're meant to serve as an exact replacement for your original components and genuine parts have longer life spans. That means you won't have to spend money on part replacements as frequently as you would with aftermarket parts. The opportunity to minimize breakdowns, conserve energy and boost operational efficiency also results in greater cost savings.
Buy Air Compressor Parts and Accessories at Quincy Compressor
When buying replacement parts for an air compressor, investing in OEM parts will bring you the best results. You can ensure optimal product quality, operation and value when you purchase air compressor parts from Quincy Compressor. Our compressor products are designed with legendary reliability and performance in mind.
Browse our comprehensive selection of compressor parts and fluids or contact us for more information about our solutions!