Air Compressors for Plumbing Supply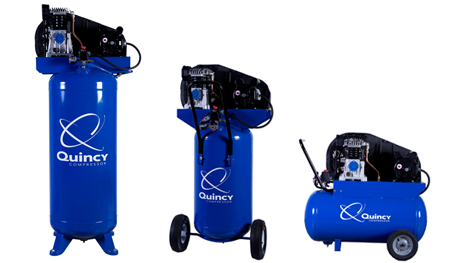 A common application of air compressors in the plumbing industry is for pressure-testing of water piping systems. This is especially important in cold climates, where unheated pipes can easily freeze during the construction of a home or commercial building. The compressor is used to produce an air flow into a storage tank until it reaches a predetermined pressure level. Most building codes require the test pressure at a minimum of 100 psi.
Because the pipe systems can be difficult to access, plumbing professionals typically require a portable air compressor that offers the benefit of maneuverability. Quincy Compressor offers compact air compressor plumbing solutions that are ideally suited for these unique work environments.
Single-Stage Reciprocating Air Compressors for Plumbing Supply
Our lineup of reciprocating air compressors includes single-stage models that are easily adaptable to plumbing applications. These compact yet powerful units can deliver 7.1 to 12.4 cfm@100 psig and offer a maximum 135 psi capacity. Portable options include a 20-gallon horizontal tank version that weighs only 155 lbs., making it easy to transport around a facility or jobsite. There's also a 26-gallon stationary vertical tank model that weighs 165 lbs. for larger compressed air applications.
Key Single-Stage Air Compressor Features
Quincy Single-Stage air compressors are built to deliver long-lasting performance for the most demanding applications and work environments. The crankshaft, valve plate and cylinder are made from cast iron to ensure maximum strength and durability. They also include a fully enclosed belt guard, ASME safety valves, start-stop pressure switch and manual tank drain.
Comprehensive Warranty Protection Gives You Peace of Mind
As with many of our single-stage air compressor models, our portable compressors come with a standard one-year warranty for your protection and peace of mind. You can also purchase our extended warranty kit that provides an additional two years of protection for the pump, as well as one extra year for other compressor components. Our warranty kit also contains everything you need for routine compressor maintenance for a subsequent three-year period. You can triple the warranty period by purchasing the air compressor and kit at the same time, and then registering and using your kit.
Contact Us to Learn More About Our Air Compressor Plumbing Products
Quincy has been providing reliable, high-performing air compressor products for nearly 100 years. You can purchase an air compressor for plumbing supply from us with total confidence. Contact the authorized Quincy Compressor distributor in your local area to learn more about our air compressor solutions, and feel free to contact us directly if you have additional questions or concerns.