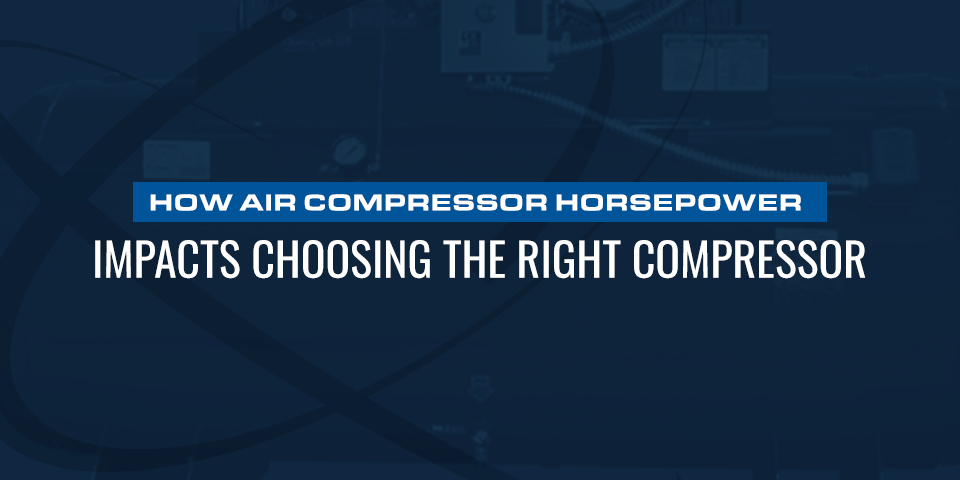 An air compressor is an important tool across many industries, and selecting the right model for your project is vital to your success. When purchasing a new compressor, many people look to the horsepower (HP) rating as a deciding factor. Yet, HP ratings are only one small part of the overall criteria for making the best choice.
The experts at Quincy Compressor have created this guide to walk you through the meaning of HP and what factors to consider before your next air compressor purchase.
What Is Horsepower?
Horsepower provides a measurement of how much performance your engine can output. In general, horsepower refers to 550 foot-pounds of power per second, or 745.7 watts.
Every compressor has a motor that receives a horsepower rating. The motor's job is to propel the cylinders or the rotary screw that compresses the air. This complex process means that the ratio of horsepower to the compressor's overall production power isn't always obvious.

HP vs. CFM vs. PSIG
Horsepower, pressure (PSIG) and capacity (CFM) are the primary three methods to measure a compressor's overall performance power.
Each of these terms has a distinct definition:
PSIG: Pounds per square inch gauge is an air pressure measurement critical for air-powered tools. Most air-based tools need a score of at least 90 PSIG.
CFM: Cubic feet per minute reveal the ceiling of how much an air compressor can output at a specific pressure level. If you'd like to run more than one air-powered tool simultaneously, you'll need a higher CFM rating.
When everything is in balance, HP provides a measurement of an air compressor's output performance for a specified level of PSIG and CFM. For example, if both a 5 and 10 HP compressor can consistently output 100 PSIG at a rate of 15 CFM, the 5 HP unit is a more powerful and energy-saving model.
How Much Horsepower Your Air Compressor Should Have
The average horsepower rating for an air compressor falls between 1.5 and 6.5 HP, although large stationary models can feature up to 15 HP. It's also key to consider your compressor's power source since it impacts HP ratings.
For example, an electric model can do the work of a 10 HP gas- or diesel-powered air compressor at only 5 HP. This gap exists because electric motors depend on an external power supply, while a gas engine produces power through internal combustion.
Contact Quincy Compressor Today for Five-Star Air Compressor Solutions
Quincy Compressor has a curated collection of 5 HP, 10 HP and larger models available for purchase today. Visit our online resources for in-depth technical specifications about our HP ratings, or reach out to a sales representative today to ask any questions. You can also read more about air compressor system basics from the experts at Quincy Compressor.
Contact Us Learn More Find a Dealer Near You
Last Updated on October 11, 2022 at 12:35 pm