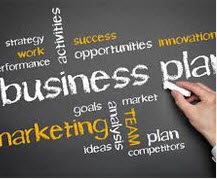 Resolutions don't have to be made solely on New Year's Eve. In addition, to your personal resolutions, why not make resolutions to help your business grow? One way you can do this is by creating a business plan for your company. A business plan will help you set goals and provide a road map for you to follow, ensuring those goals are met. Careful planning is fundamental to success. Each year, business goals and focuses change based on changes in the economy and other outside elements beyond our control. Far too often, people think they can achieve their goals but fail to outline the steps to help them along the way. That is where this plan will serve as a compass when the winds change.
So where do you start? Since each business is unique, you will need to create a plan that is specific to your needs. The first step is to identify what goals you would like to achieve this year and what goals will lead to growth. For example, let's say one of your objectives for 2015 is to build a company website (or update an existing one) that will help customers identify your company's products and services. You will need to identify this as a goal in your business plan, and then outline the steps you will take to achieve it. Also include your financial needs to get the website updated or started. This will help you set a budget and stick to it. Next, consider any low-hanging fruit. Have you included all of the areas that will build your customer relationships?
Along the way, evaluate your progress towards the goal. Schedule weekly or bi-weekly update meetings with everyone involved to find out if you are on track, see if any changes need to be made to strategy, etc. You should also do an evaluation upon completion. The knowledge you take away from this project will help you in setting goals and creating more accurate business plans in the future.
All of this may seem intimidating if you are not used to practicing it annually, but rest assured, there are plenty of resources available. You can find books, online publications and articles that will get you started and help you along the way.
Check out these great websites for templates, guidelines and examples to help you get started on your business plan:
https://articles.bplans.com/a-simple-step-by-step-guide-for-business-planning/
https://www.bplans.com/sample_business_plans.php
https://www.sba.gov/category/navigation-structure/starting-managing-business/starting-business