Natural Gas Compression
Natural Gas Compression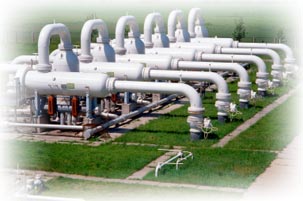 Quincy natural gas compressors can provide a safe, reliable source of compressed air for equipment cleaning and other typical natural gas industry processes. We've been providing superior air and gas compressor products for a wide range of industries for nearly 100 years.
High-Performing Industrial Gas Compressors Can Meet the Challenge
A Quincy natural gas compressor is capable of meeting the unique challenges that pertain to the natural gas industry: Providing 24/7 gas compression service in many demanding applications including gas gathering, well head gas recovery, gas transfer, flare elimination and vapor recovery.
What Makes Quincy Natural Gas Compressors the Best Solution?
A Quincy industrial gas compressor will exceed your expectations in terms of dependability, simplified maintenance, reduced ownership costs and an assortment of flexible gas packaging options:
Dependability:Through quality engineering, rigorous manufacturing and adherence to ISO 9001 standards, enabling Quincy to provide reliable reciprocating and rotary screw compressors.
Ease of Maintenance:The QRNG reciprocating compressor uses heavy-duty, disc-type valves which are accessible without having to remove the cylinder head, unhooking the discharge line, unbolting the intercoolers or other typical valve maintenance procedures.
 Low Cost of Ownership:Wide array of sizes, in both reciprocating and rotary screw compressors, allow for a more precise fit to operating conditions and needs, resulting in less wasted energy and more throughput. The QSG rotary screw compressor offers a high efficiency rotor profile to minimize horsepower usage and a bearing arrangement that maximizes reliability.
Expert Gas Packaging:Our quality packagers can provide, by sale or rental, Quincy gas compressors to fit your needs and applications. Our partners have many years of experience in fabricating gas compressor packages with all types of drivers, lubrication systems, a wide selection of control systems and all other components necessary to outfit a first class compression package. Click here to locate an authorized Quincy gas packager.
Try Our Natural Gas Screw Compressors and More
We recommend the following products that are specifically designed for natural gas applications:
QSG – The Quincy QSG rotary screw natural gas compressor features an L-10 calculated life of 130,000, which exceeds that of many other products in the industry. Sixteen QSG models are available with power capacities reaching 600 hp. The Quincy rotary screw is designed to maximize gas flow while reducing horsepower. Other prominent features include a replaceable mechanical seal, gear-driven lubricant pump and gear-free direct drive.
QRNG – The QRNG is a reciprocating natural gas compressor made from heavy-duty cast iron for superior strength and unmatched durability. Nine models are available to choose from, each combining low-cost gas compression with fast and easy maintenance. Key features include a one-piece crankshaft, tapered oil bearings, improved shaft seal which holds an internal pressure of 30 psig, and spin-on oil filter.
Contact Us Directly or Get in Touch With the Authorized Quincy Dealer in Your Local Area
Learn more about what makes Quincy Compressor the leading natural and compressed gas compressor manufacturer in the industry. Contact us for more information today. To find the nearest Quincy Compressor Gas Specialist in your area, please click here.