If you need a new air compressor for your business, gain the advantage of a superior product and support from the industry experts.
Quincy Compressor is your full-service air compressor supplier in Acworth. Our Atlanta location is your local partner for manufacturer-direct sales for our entire product line. We also carry parts, offer maintenance services and perform emergency repairs. Talk to our knowledgeable team today to learn all the ways we can help your business succeed.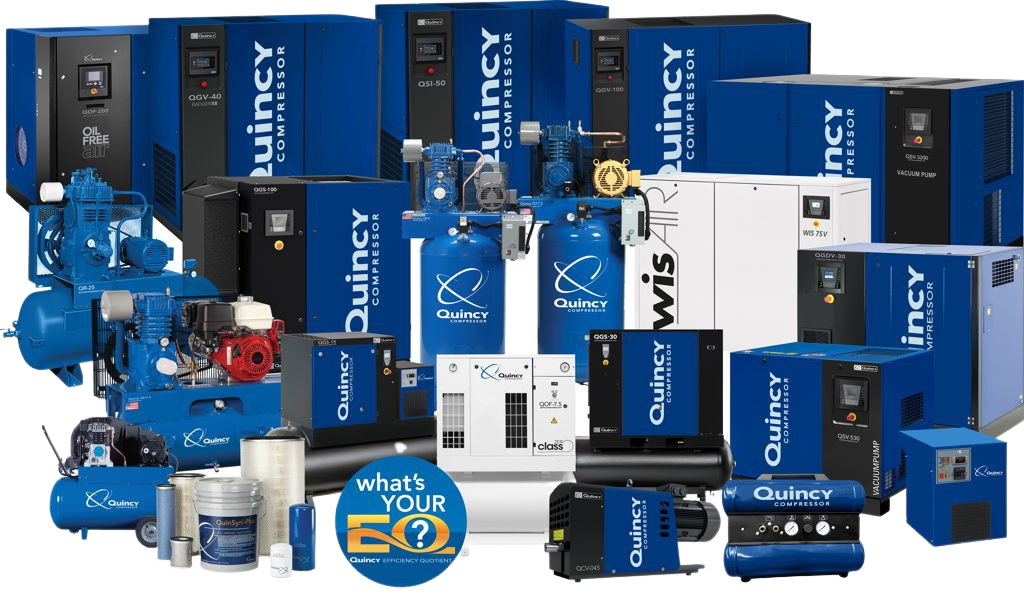 Browse New Air Compressors for Sale
You can select from many different Quincy compressors to get the job done. This lineup includes industrial-strength stationary systems, lightweight specialty systems and portable air compressors with small footprints perfect for shops or similar uses. Our experts will help you explore our product line and determine which type and model system will best match your needs.
The complete selection of compressed air systems we have includes:
Additional products are available to help you configure your ideal system and optimize your air output. We also sell genuine parts and carry maintenance fluids for performing scheduled maintenance services. Expert installation is available for your added convenience.
Save Time and Money With Professional Air Compressor Service in Acworth, Georgia
Whether you perform repairs yourself or want our team to take care of things, we have you covered with affordable service agreements that simplify compressor care. Our Guardian plans and Fixed Price Services agreements are the simplest and most cost-effective way to ensure your compressor gets the regular services necessary to last long and deliver max performance.
The benefits you'll gain will vary by program but can include:
More system uptime.
Better system efficiency.
Extra warranty protection.
Reduced administrative costs.
Lower lifetime system overhead.
We also offer air compressor repair in Acworth. Repair services are available 24 hours per day, seven days a week and include sending trained mobile technicians to your location. They will quickly diagnose your system and perform an expert repair using genuine parts. If they identify anything else during the service that they think needs your attention, they will let you know what they can do to solve it and help you avoid another surprise.
Why Choose a Quincy Compressor?
Quincy compressors have the benefit of quality, precise and controlled manufacturing in an ISO-9001-registered facility. They deliver consistent and reliable performance you can count on for years, even if you're running your system virtually nonstop in a challenging environment. When you purchase any of our products, you get access to superior product and service solutions. You also get the backing of some of the most comprehensive warranty coverage available industry-wide.
Contact Quincy Compressor Serving Acworth, GA
We have over 100 years in the business of designing and manufacturing industry-leading, American-made products for an extensive range of commercial applications. Let our team show you how we can leverage our experience and systems to your advantage.
Use our contact form to get in touch. You can also reach us by dialing 855-978-4629.