Atlanta Air Compressors for Sale
A wide range of industries call for compressed air and vacuum solutions for day-to-day operations. In Covington and Atlanta, GA, companies in the oil and gas, food and beverage, farming and automotive industries all need compressed air on a regular basis so they can complete tasks and deliver products on schedule.
At Quincy Compressor, we are a leading provider of air compressor sales in Atlanta, GA and surrounding areas. In addition to a huge selection of high-quality products, we also offer air compressor parts in Atlanta, GA and 24-hour service and support through local partners. See below for more information as you're looking for an air compressor in Atlanta, GA, and contact your local service provider to speak with a representative in your area.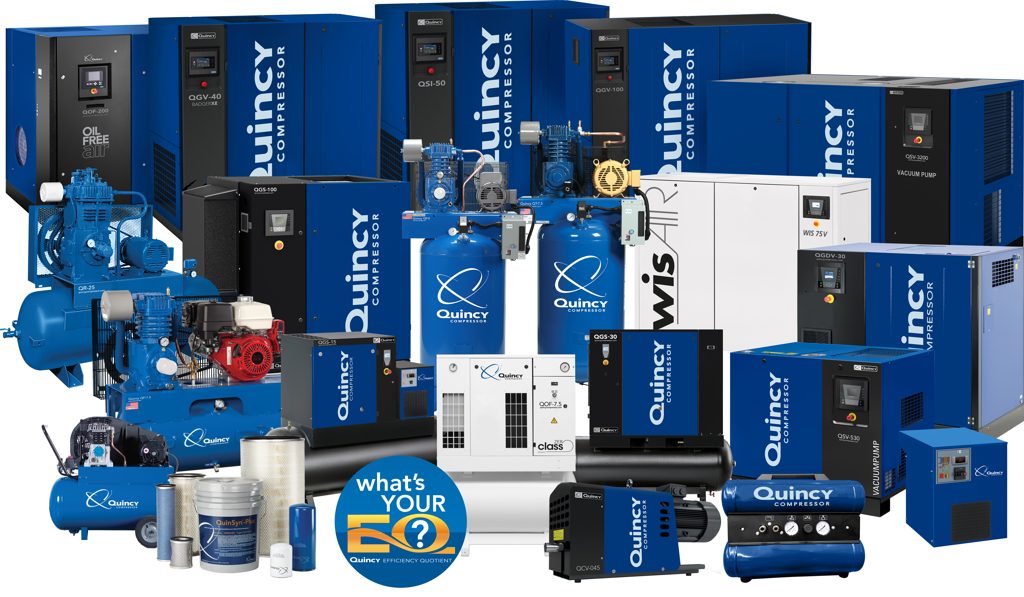 What Type of Air Compressor Does Your Atlanta Business Need?
What type of air compressor are you looking for in Covington, Atlanta or the surrounding areas? At Quincy Compressor, we provide a wealth of options so you can always find what you need. Our selection of industrial air compressors in Atlanta includes:
Benefits of Partnering With Quincy for Air Compressor Sales in Atlanta, Georgia
When you choose Quincy Compressor for air compressor parts and air compressor sales in Atlanta, GA and surrounding areas, you unlock a wealth of benefits. First and foremost, you get products and services from a longstanding global leader in air compressing technology. We're always incorporating the latest innovations into our products, which ensures our customers are always getting the latest and greatest in compressed air solutions. Our products are built with high attention to detail and an emphasis on quality, and each part is manufactured for durability. Get these benefits and more when you choose Quincy for air compressor parts in Atlanta, GA and surrounding areas.
Air Compressor Sales & Service Locations near Atlanta, GA
Directions to Our Atlanta, GA Location
Quincy Compressor Atlanta is located at 14500 A-C Lochridge Boulevard, Covington, GA, conveniently off of Route 20. Nearby businesses include Hampton Inn, It's Just Wings, and AT&T.
Get Directions
We're Here to Meet Your Air Compressor Needs in Atlanta
What type of compressed air solution do you need? For nearly a century, Quincy Compressor has been providing industry-leading products, customer support and service. We're ready and waiting to help meet your compressed air needs. To speak with a knowledgeable expert about air compressor sales in Atlanta, GA, call 855-978-4629 or fill out our online contact form today.
What Our Customers Say About Quincy
We had fantastic customer support and service.
– Bill. Georgia