Is it time to upgrade your air compressors or add another machine to your growing business? If you're in or near Aransas Pass, TX, the Corpus Christi location of Quincy Compressor has the right equipment for the job.
Quincy Compressor has been producing innovative compressed air equipment for more than 100 years — the Quincy brand is synonymous with excellence throughout the industry. Our Corpus Christi store carries the latest Quincy products for numerous industries, including automotive, plumbing, mining, oil and gas and many others. We also back every product we sell with the excellent service you deserve.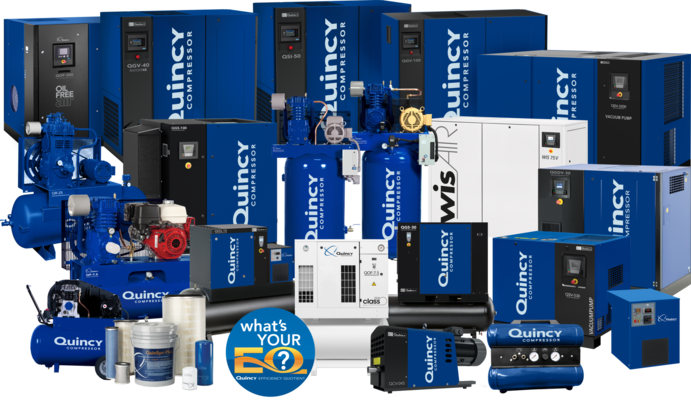 A Wide Assortment of Air Compressors for Sale in Aransas Pass, Texas
Our extensive lineup of compressed air equipment consists of models comprising the following categories:
Are you having trouble deciding which product is best for your applications? Our authorized partners in Corpus Christi have the expertise to recommend the right equipment for the job. We'll help you select the size, configuration and capacity that delivers the most efficient, cost-effective results for your business.
Quality Products That Won't Let You Down
If you depend on air compressors in your day-to-day operations, you need equipment you can trust. Quincy produces air compressors in an ISO 9001-registered facility under closely monitored conditions. We strive for consistency with every production run by implementing easily repeatable manufacturing processes. You'll always know you're getting a dependable product that will deliver many years of service to your business. We also support our compressors with the best manufacturer's warranties in the industry.
We'll Help Keep Your Compressors on the Job
Our air compressors near Corpus Christi, Texas, also come with complete service. We're only about 30 minutes from the Aransas Pass area — we can be at your business quickly to take care of any repair need, even during emergencies. Our authorized partners can also supply all the replacement parts you'll need to keep your equipment operating at peak efficiency.
Check Out Our Air Compressor Lineup Today
We invite you to visit Quincy Compressor at 4902 Ayest St. in Corpus Christi. We'll be happy to give you a closer look at all our compressed air equipment and answer your questions. You can also call us at 855-978-4629 to speak to a local representative or fill out and submit our online contact form.