Air Compressors in Corpus Christi, Texas
The South Texas city of Corpus Christi is home to a variety of industries that require a reliable source of compressed air at their job sites. As a leading producer of air compressors for businesses in Corpus Christi and beyond, Quincy Compressor has the right equipment for the job. We serve the needs of everything from oil and gas and mining operations to construction and manufacturing companies. We also provide comprehensive 24/7 support for every product we sell through our extensive network of local partners.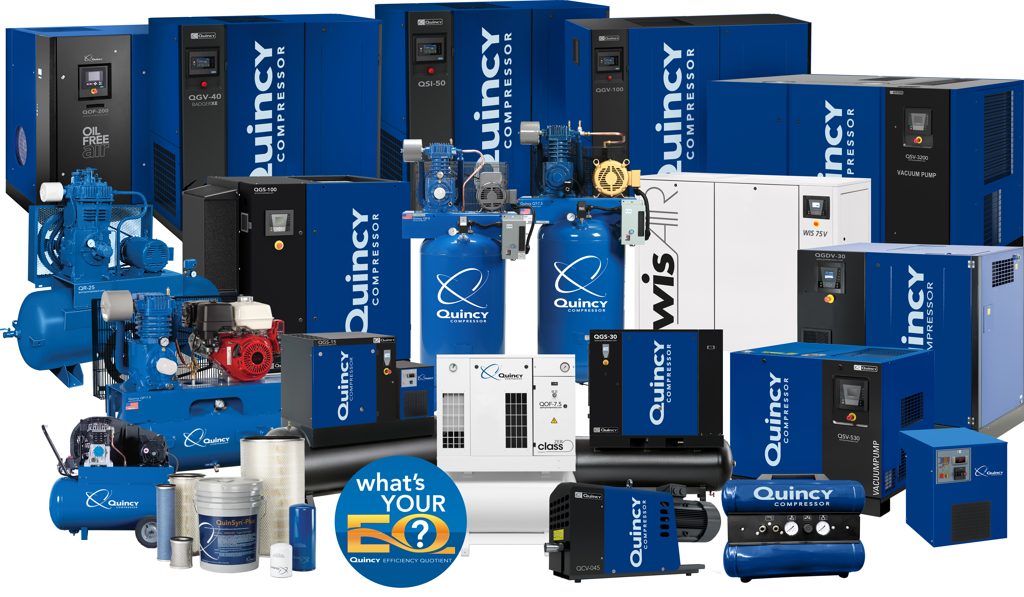 Air Compressors & Parts in Corpus Christi, Texas
Quincy Compressor has a long, proud history of quality and excellence. Since our founding in 1920, we've been a leading innovator and producer of industrial compressed air equipment. We were at the forefront of the development of rotary screw air compressor technology a half-century ago with our introduction of the pioneering QSI compressor series.
These days, we're a top designer and manufacturer of reciprocating and rotary air compressors ranging from 1/2 to 200 horsepower. Reciprocating compressors are ideal for applications that require the intermittent use of compressed air, while their rotary screw counterparts work better for continuous-use applications. We also offer natural gas, oil-free and portable air compressors, as well as vacuum pumps, air treatment equipment and air system piping.
All Quincy Compressor products feature a rugged design and construction that ensures reliable, long-lasting performance in the most demanding conditions. Green, energy-efficient options are also available for businesses looking for environmentally friendly equipment that delivers lower fuel costs and a reduced carbon footprint.
Full Selection of Air Compressor Parts in Corpus Christi, TX
Even a well-designed, expertly constructed product from Quincy Compressor will need new parts now and then to stay in peak operating condition. Our local Corpus Christi partners can provide all the air compressor replacement parts you need to keep your air compressors on the job and performing well for years to come. You'll find everything from belts and motors to bearings and connecting rods, and even complete pump rebuild kits. All genuine Quincy replacement parts meet the same high standards for quality as the originals.
Prompt Repair Service Is Also Available
If you have a repair issue with your air compressor or other Quincy Compressor product, our local Corpus Christi service providers are available around the clock to assist you. We also offer a variety of cost-effective service plans that cover preventive maintenance and repairs to help you manage your assets more efficiently and minimize downtime due to unexpected mechanical failures. Our industry-leading warranty programs give you extra protection and peace of mind while ensuring the value of your purchase over time.
Compressor Service Locations near Corpus Christi, TX
Contact Us to Learn More About Air Compressors in Texas
Would you like more information about our air compressors for sale in Corpus Christi or our broad range of support services? Do you want to know more about what makes Quincy Compressors your best choice for compressed air products, vacuum pumps and air treatment equipment? Your local service provider is ready to help. Give us a call at 361-289-2294 today.