If you use compressed air in your facility, you require a dependable air compressor to ensure your operations run as smoothly as possible. When you obtain high-quality equipment from a trusted manufacturer, you can streamline your compressed air applications and minimize downtime for your business. Whether you work in agriculture, plumbing or manufacturing, you must invest in the compressor that will bring you the highest value.
At Quincy Compressor, we offer a comprehensive range of high-grade air compressors for our California customers. We've spent over 100 years manufacturing top-of-the-line solutions that emphasize quality, durability and performance, making us the industry leaders you can trust.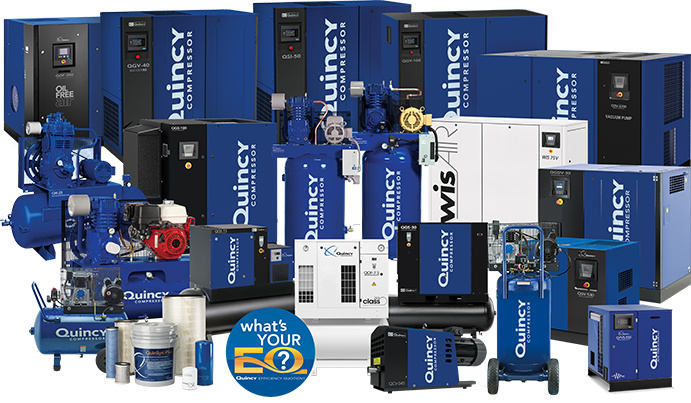 Quincy Air Compressors in California
Choosing Quincy Compressor as your go-to manufacturer means gaining access to our comprehensive selection of dependable and efficient air compressors. Our equipment exhibits exceptional durability and longevity, enabling companies to use air compressors in demanding industrial environments without sacrificing performance. Our compressed air products are built from decades of design advancements, giving them the uncompromising reliability, exceptional quality and top performance they're known for today.
You can ensure that your operations run smoothly when you secure Quincy compressors for your facility. You can find all of the following models and configurations in our inventory:
Versatile Air Compressors for Your California Business
When you come to Quincy Compressor for your compressed air needs, you'll benefit from working with us. With the help of our local distributors, we deliver 24-hour assistance to our customers, helping them operate with maximum uptime. We also use our vast industry knowledge and experience to provide companies with guidance in choosing air compressors that are best suited to their unique applications.
We've long served customers across a wide range of diverse industries. Our compressed air solutions have the versatility to accommodate applications within any of the following fields:
Plumbing
Oil and gas
Automotive
Food and beverage
Plastics
Aerospace
Energy
Dry cleaning
Pharmaceutical
Textiles
Manufacturing
Plastics
Our California Air Compressor Locations
You can purchase Quincy compressors across California. We have many authorized dealers throughout the state, as well as our two direct store locations:
Our direct service locations are positioned near dozens of California cities, such as Los Angeles, Irvine and Oakland, so you can reach us no matter where you are.
Our Fontana location is 7898 Cherry Avenue, Unit 1, in Fontana, California. You can find our West Sacramento store at 3919 Channel Drive in West Sacramento, California.
Buy Air Compressors in California From a Trusted Manufacturer
You can purchase high-quality air compressors in California at Quincy Compressor. Our state-of-the-art solutions are designed to deliver dependable and efficient performance for decades, making them the ideal solutions for any industry. When you buy compressor products from us, you'll also receive our comprehensive warranty plan that covers your investment for up to 10 years.
Find a Quincy dealer near you, or contact us online to speak to our compressed air experts today!