So many industries rely on compressed air. If your Chester, VA, company needs to upgrade its air compressors, vacuum pumps or related equipment, you don't have to look far to find what you need.
Quincy Compressor, a leading designer and manufacturer of cutting-edge compressed air equipment since 1920, operates a full-service distributorship in nearby Richmond that can deliver the right solutions for your company. Select from a broad range of products for multiple applications and receive prompt 24-hour service to maximize your ownership experience.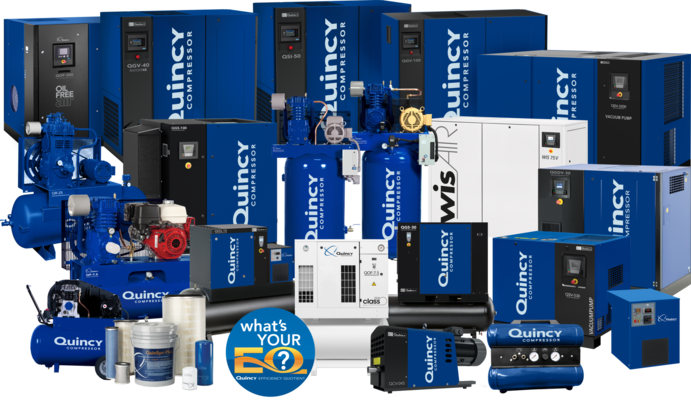 Our Inventory of Compressed Air Products for the Chester Market
Quincy continues to set the bar high regarding air compressor innovation. Our Richmond location can provide your Chester-area business with the latest products that will increase productivity and efficiency in your workplace. Available options include:
Choose from various models within these categories to meet your unique performance requirements. Trust our network of knowledgeable and professional air experts in Richmond to help you make an informed buying decision. With the backing of our industry-best warranties, you can purchase any Quincy Compressor product with total confidence and peace of mind.
Superior Quality Sets Us Apart
All Quincy Compressor products meet exceptionally high standards for quality and durability. We manufacture all our equipment in the USA in an ISO 9001-registered facility under tightly monitored conditions. You can count on your air compressor to perform reliably and consistently in the most demanding operating environments for many years.
Top-Notch Air Compressor Service in Chester, Virginia
A central advantage of operating regional distributorship stores like our Richmond location is that it places us close to the customers we serve. If you ever need an air compressor repair in Chester, Virginia, we can be there quickly and have your equipment functioning again in no time. We can handle everything from minor adjustments to more significant mechanical issues.
We can also provide replacement parts for most Quincy models — you won't have to look anywhere else for the right product for the job.
Contact Us to Learn More About Quincy Compressor in Chester, Virginia
Feel free to visit our Richmond store to learn more about your compressed air options in Chester, VA. You can also call us at 855-978-4629 or contact us online for additional product and pricing information or appointment scheduling.