Your compressed air solutions must operate efficiently while exhibiting durability that lasts. With high-quality air compressors from a trusted manufacturer, you can take advantage of the continuous performance you need to keep your facility's operations moving and meet your unique application needs.
You can find top-of-the-line air compressors in Connecticut that meet or exceed your high quality standards at Quincy Compressor. As industry-leading air compressor manufacturers for over a century, we offer nothing less than the most robust and efficient solutions designed to take on demanding applications across countless industries.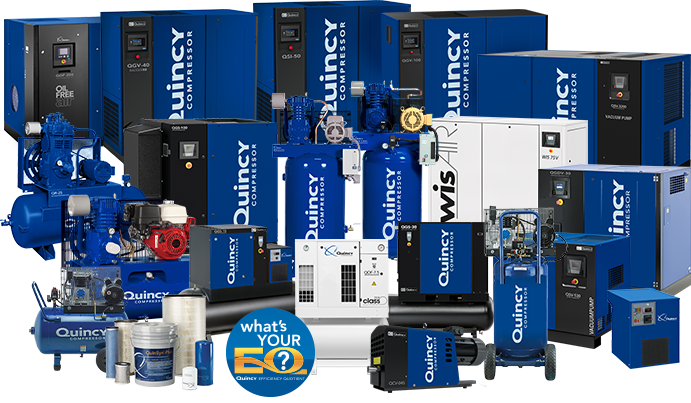 Our Connecticut Air Compressor Options
When you come to Quincy Compressor, you'll have access to our extensive selection of rugged, high-performance air compressors designed to operate in even the toughest industrial environments without compromising efficiency. We pride ourselves on manufacturing compressed air products that exhibit premium performance, exceptional quality and unyielding reliability that only come from decades of design and manufacturing innovation.
You can keep up with all your most demanding production tasks when you invest in Quincy air compressors for your Connecticut business. Find the following compressor types in our inventory:
Secure Quality Air Compressors for Your Connecticut Business
At Quincy Compressor, we've used our manufacturing expertise to produce superior compressed air products since our establishment in 1920. Our extensive experience allows us to deliver unmatched support to our customers, giving them professional advice to help them select the air compressors that best suit their individualized needs. Our local Connecticut distributors also allow us to provide 24-hour equipment services and assistance, resulting in greater uptime for your company.
You can secure high-quality compressors for your facility to suit practically any application. Our versatile parts and products are designed to fit the compressed air needs of a wide range of industries, including:
Manufacturing
Food and beverage
Oil and gas
Automotive
Agriculture
Mining
Textiles
Plumbing
Dry cleaning
Our Connecticut Air Compressor Service Locations
We provide high-efficiency air compressors to customers across Connecticut from two Quincy stores::
You can find our Berlin location at 1492 Berlin Turnpike in Berlin, Connecticut, across from Sage Park. When heading south on the Berlin Turnpike, Quincy Compressor is to the right of the highway.
Our Middletown, Connecticut, store is located at 32 Industrial Park Place in Unit B. Conveniently positioned off the Meriden-Waterbury Turnpike and near the intersection of Interstates 84 and 691, this Quincy location is easy to find.
Purchase Air Compressors in Connecticut at Quincy Compressor
You can find top-quality air compressors in Connecticut when you visit us at Quincy Compressor. With many years of experience offering rugged compressor products and expert customer service, we're the manufacturers you can trust. We're dedicated to getting you the most value for your investments while protecting them with our comprehensive warranty plans.
Visit your local Quincy dealer or contact us for more information on our air compressors today!