Ensuring your business has the compressed air equipment it needs to stay productive is simpler than ever with the Quincy Compressor direct location near Coral Springs. We carry the full line of Quincy systems, and we have multiple cost-effective solutions you can take advantage of to keep your system operating in peak condition.
Our team has the skill and knowledge to compare your requirements to the systems we offer and help you make the right decision. We work with all the area's major industries to integrate our products into facilities of any layout and size, with products and services suited for virtually every commercial and industrial application local to the area.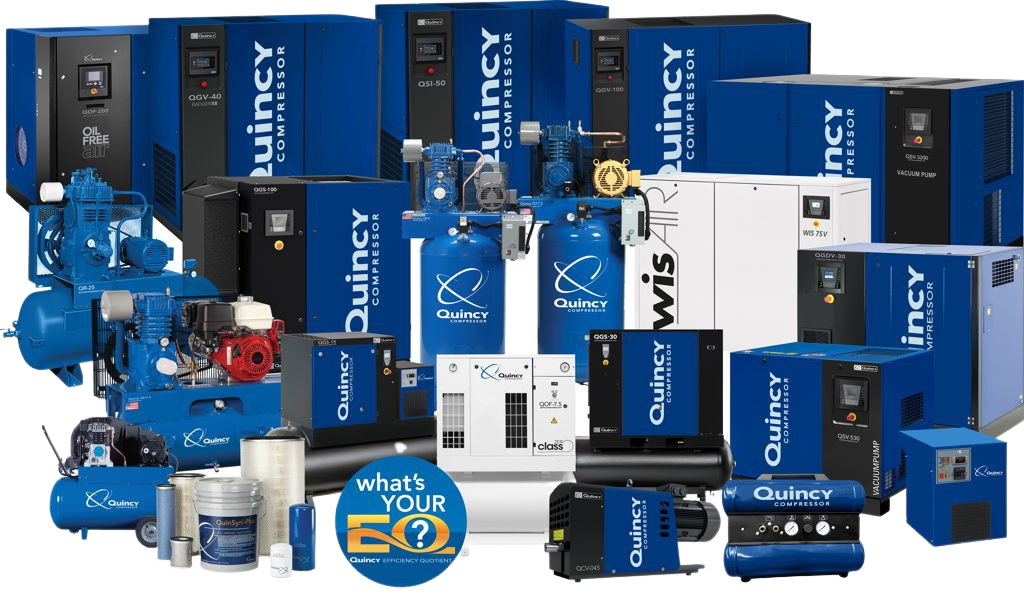 Looking for Heavy-Duty Air Compressors Near Miami?
At Quincy Compressor, our manufacturing experience goes back over 100 years. These systems are made in the USA to the highest production standards, and we support them with excellent warranties.
We are a global leader in industrial compressor design and have a diverse system catalog to select from, with products including:
Vacuum pumps.
Oil-free air compressors.
Natural gas compressors.
Rotary screw compressors.
Reciprocating air compressors.
We also carry a selection of compressor accessories and upgrades to optimize your system. These include products for treating end-user air output, solutions you can use to increase system efficiency, additional compressor piping, remote monitoring technology and more. New compressors customized from the ground up are also available to match unique specifications.
Your Home for Air Compressor Services Near Coral Springs
We know compressors better than anyone. Something these machines all have in common is a need for regular services. Performing scheduled services will help ensure your compressor lasts and delivers maximum performance. Our team has you covered with options to meet your budget and fit your schedule.
Get Genuine Parts
If you perform services in-house, we have you covered with parts and fluids for your machine. You can visit our store location for assistance locating what you need or enroll in our Parts Guardian plan. Parts Guardian plans are tailored around your compressor and usage, providing regular delivery of the parts you need for maintenance at a locked-in low price.
Get Expert Maintenance Care
We also offer the option to have a trained technician perform maintenance for you at your location. This is an excellent way to ensure your system gets the care it needs, and it provides exceptional value, whether you're tight on time or want the benefit of professional care. Advantages vary by plan but can include significant cost savings, more uptime and more years on your warranty.
Get Local Air Compressor Repairs
Thanks to our partnerships with local providers, we offer emergency local air compressor repair in Coral Springs that you can call upon 24 hours a day. Repairs are completed by technicians familiar with our product line and carried out using genuine parts.
Get in Touch With Our Team
Talk to the experts at Quincy Compressor near Coral Springs to learn more about our systems and services and get a quote. Visit our Miami location to get started, message us using our form or call 855-978-4629.