Quincy air compressors power some of the most important processes across multiple commercial and industrial applications. If you're looking for a system capable of getting the job done, we have a solution you need at a cost-effective price right here in the local area.
Our nearby Quincy-direct location in Atlanta is your manufacturer connection. Here, you'll find sales, service and support for the entire Quincy product line. Trust our experts to help you find a solution that will support your business for years into the future.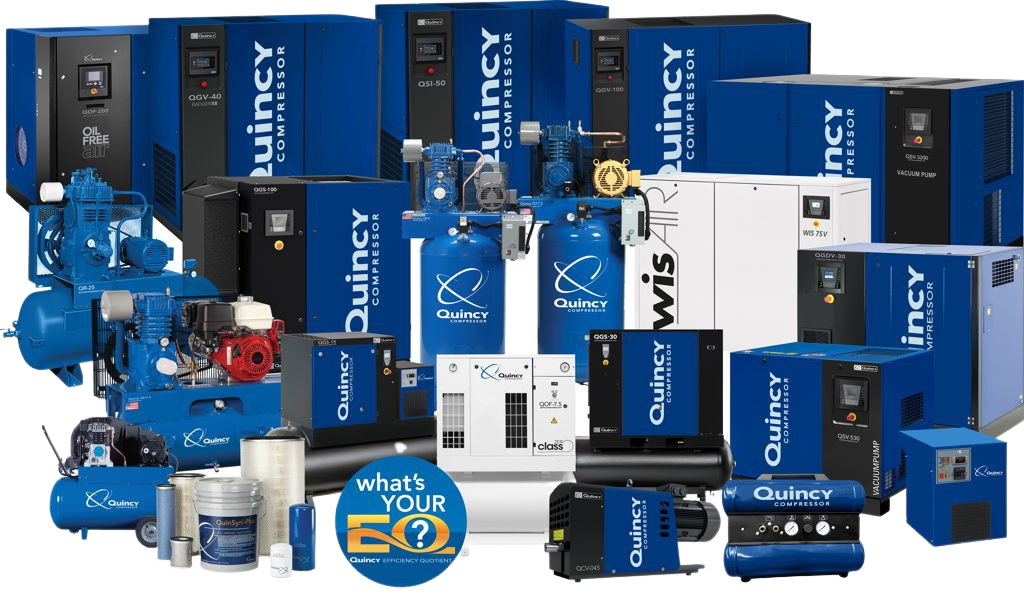 Find the Right Air Compressor for Your Cumming, Georgia Business
If you need compressed air, we have a solution. We are the designers and producers of an extensive line of systems, upgrades and accessories that you can use to modify your system and the end-user output. The team at our Atlanta store has the hands-on experience to assist you in determining which solution is your best choice, and they will provide you with professional assistance through turnkey installation.
We manufacture several different system designs:
In addition to new systems, we also carry genuine parts and consumable maintenance fluids. These are available over the counter, and you can also get them through our Parts Guardian program. Enrollment in the Parts Guardian plan simplifies machine upkeep with regular delivery to your location. We'll also lock you into today's parts costs for the plan duration to protect you from any increases and make it easier for you to plan your budget.
Why Choose a Quincy Compressor?
When you purchase a Quincy system, you gain the benefits of a quality product and superior support. Our air compressors are manufactured in the USA with precise processes in an advanced facility. They are also held to the highest quality standard, ensuring they meet or exceed all your expectations for consistency, longevity and performance. As an added advantage, we back our products with industry-leading extended warranties for added peace of mind.
Your Home for Air Compressor Services in Cumming, GA
Using a Quincy compressor for your Cumming, Georgia, business delivers multiple benefits. Providing your unit with the care it needs will ensure you can continue enjoying it for years after your purchase. You can trust our team to ensure your system receives the support it requires by enrolling in one of our comprehensive maintenance agreements.
Some benefits you can get with enrollment include:
Professional air compressor care.
Over two more weeks of uptime per year.
Reduced administrative and energy costs.
We also provide on-call services for air compressor repairs in Cumming, GA, available 24 hours per day to your location. Our technicians receive extensive training on our systems. They will quickly diagnose and repair your system using a reliable solution.
Connect With an Expert
Start working with our team today. We're happy to help you learn more about our products and services and provide you with a custom quote. Dial 855-978-4629 to get started or message us using our form.