Your automotive, oil and gas, aerospace, food and beverage or other industry in Deer Park requires a source of quality compressed air. That means you need the best possible air compressors and air compressor parts in Deer Park, NY.
Fortunately, Quincy Compressor, formerly Scales Industrial, the name to know for reliable air compressor products throughout the Northeast, offers a wide range of air compressors in Deer Park, NY, for you to choose from. These are modern, effective air compressors available at great prices for you right now. Our professional and knowledgeable air experts will work with you to identify the products and services that efficiently meet your needs.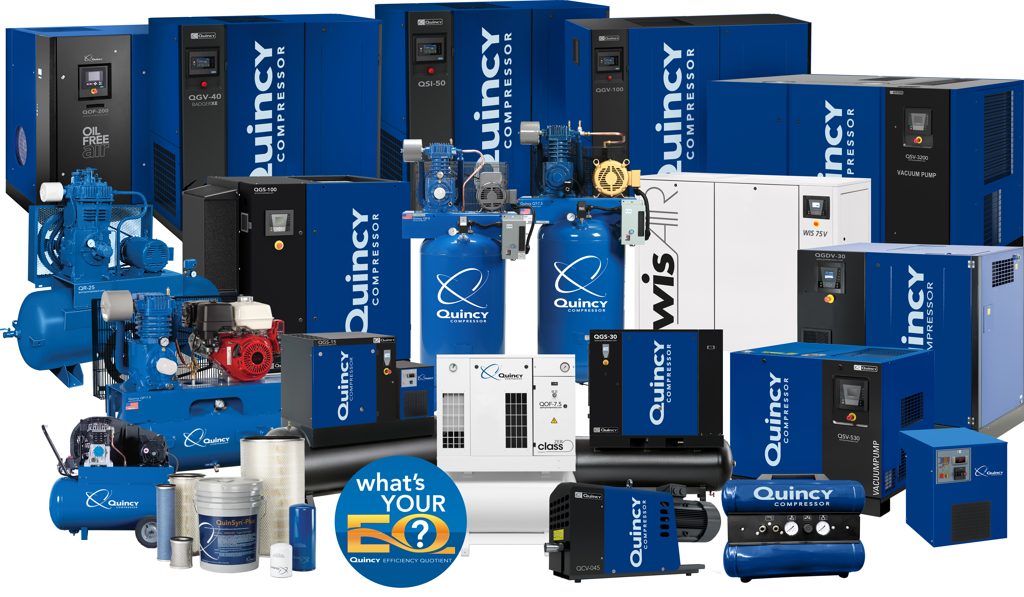 Types of Air Compressors for Deer Park, NY, Companies to Choose From
Not all businesses and industries that use compressed air are alike. There can be many different applications and work environments that call for a particular air compressor solution. Which type of air compressor is right for you? No matter what your needs are, we have an air compressor to meet them. Our selection of air compressors in Deer Park, NY include:
A Complete Selection of Equipment at Our Quincy Scales Industrial New York Location
We strive to be a total solution provider offering a full range of reliable, high-performance industrial equipment. Along with our impressive line-up of air compressors, we carry a variety of other industrial products. Our selection in Deer Park includes everything from compressor controls such as sequencers, control panels, variable frequency drives and controller upgrades to process cooling chillers, dry fluid coolers and evaporative towers. Our skilled air professionals will help you find all the products you require.
Quincy Compressor offers a full inventory of industrial vacuum units, and when it comes to air treatment, we're your one-stop-shop in NY. We carry compressed air dryers and filters, oil/water condensate separators and breathing air purifiers. We also provide engineered product design and use the latest technologies and concepts for improved manufacturing productivity and reduced operating expenses relating to energy, repairs and downtime.
Additional reasons to partner with Quincy Compressor, previously Scales Industrial, in New York include:
Excellent reputation for products delivering uncompromising reliability and performance in the most challenge applications
Industry-best warranty protection with extended coverage options on both reciprocating and rotary screw models
Full-service analysis and upgrades, turn-key installations, troubleshooting, maintenance programs and more
Complete selection of factory-genuine original parts and aftermarket solutions in stock and ready to ship
A company dedicated to providing customer service and support that meets and exceeds your expectations
Quincy Compressor, Formerly Scales Industrial, New York Directions
If you're looking for a reliable source for air compressors in Deer Park, NY, your search is over. Quincy Compressor is located at 87 E. Jefryn Blvd. Suite B, just off Grand Blvd. in the Baywood area. When you visit us in Deer Park, you'll find the same quality products and knowledgeable and professional service you've come to expect from Scales Industrial for over 50 years. Whether you work in manufacturing, food and beverage, healthcare or any other industry that relies on compressed air and related products and services, Quincy Compressor is a trusted partner in your success.
Get Directions
Why Quincy Compressor Deer Park, NY Is The Right Choice for You
When you contact our Deer Park office, you'll get the benefit of a local specialist combined with the history and quality naturally associated with Quincy Compressor. Quincy Compressor has been providing air compressor products to growing businesses since the early 20th century, so you know we know air compressors.
You'll enjoy the best products along with an extremely wide range of options when you trust us, which means you can get the perfect compressor for your business. You'll get 24-hour sales and support too, so anytime you need a part or have a question, you can know we'll be there. When you get an air compressor from Quincy Compressor, you'll have a global leader in air compressors on your side.
Get in Touch With Your Deer Park Quincy Compressor Sales and Service Provider Today
We can't wait to help you with all your air compressor needs in Deer Park. Get started now by filling out a contact form or calling 516-248-9096
What Our Customers Say About Quincy
This is our second Quincy compressor. The first one is still in service, we use that as our backup, and the new one is needed for extra demand. We are quite pleased with your sales person, very knowledgeable and informative. The technician was also very knowledgeable, and explained the operation to us. He was also available for explanation at a later point.
– Angelo, New York