If you use compressed air in any capacity for your Doraville, Georgia, business, partner with the established industry experts and get products you can trust. Quincy compressors have respect around the globe for their performance and lasting durability — and you have access to the entire product line here in the local area. Our Atlanta location is your authorized source for new Quincy systems and expert support. Let us simplify your processes and help you save.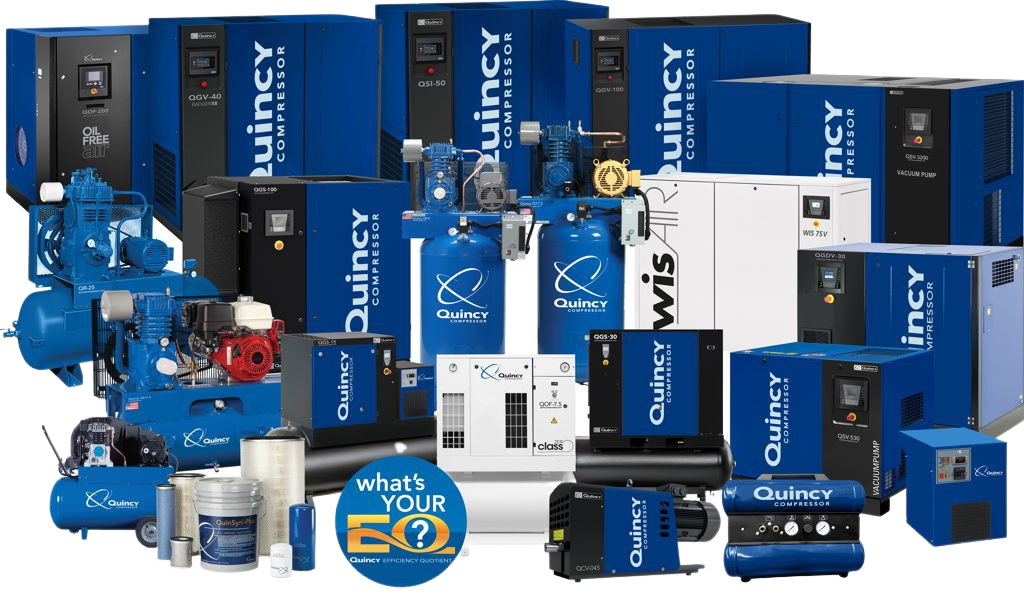 Your Home for Advanced Compressed Air Solutions
Quincy Compressor is the undisputed industry leader. We design and produce a powerful line of systems in the USA using repeatable processes and manufacture our products by following strict quality controls in an ISO-9001-registered facility. The effort pays off in machines that deliver consistency, precision and reliable performance.
Buy a New Air Compressor in Doraville, GA
We carry the area's most impressive selection of new air compressors for sale. We also make it easy to select the proper machine with expert guidance from a knowledgeable air expert. Our team will help you determine which style and model air compressor will best match your requirements, configure it to meet your needs and provide turnkey installation services upon request.
Browse our complete product line to see what we offer.
Purchase Compressed Air On-Demand
Our Quincy-On-The-Air program provides an alternative to buying a new machine. With these machine-as-a-service agreements, all you have to do is pay a competitive monthly rate proportionate to the amount of air you use. Quincy technicians take care of installation, calibration, services and repairs, so you can enjoy maximum performance and uptime while focusing on other tasks.
Read more to learn about the different advantages this service provides.
Find Air Compressor Parts
Our store location has a massive inventory of genuine Quincy Compressor system parts and maintenance fluids available. You can visit our store location for expert assistance or save time and money by enrolling in a Parts Guardian plan. Enrollment is affordable and locks you into today's parts prices. It also sets you up with regular delivery of the parts you need for performing scheduled services.
Learn more about the compressor parts solutions we have available.
Rely on Compressor Services
We are your source for complete air compressor services near Atlanta. When you buy a new Quincy compressor for your Doraville business, you can enroll in a maintenance agreement that simplifies your ongoing care. Plans include top-to-bottom services from a trained Quincy technician. You can also get benefits like more warranty protection and a customized program designed for you.
See everything our service plans offer.
Get Air Compressor Repairs
Our team is your first and only call if you need emergency compressor repairs anywhere in the Doraville area. No one is more qualified to work on our systems than our technicians, and we know how important it is for you to get your system back online. We'll come out to your location 24/7/365 to provide you with fast, courteous and expert repair service using genuine parts.
Call 855-978-4629 day or night for assistance.
Talk to Our Team
Reach out to our Atlanta location to get a quote and request more information. Send us a brief message to get started.