Businesses throughout the Fredericksburg, VA, area need compressed air for powering tools and machinery and performing many other jobs. Quincy Compressor, a leading global provider of air compressors and related products, has the right solution for the job.
Our full-service Richmond facility is just an hour away and ready to help businesses in industries such as automotive, energy, food and beverage, construction and many others meet all their compressed air requirements. We back our products with 24-hour service and support from knowledgeable professionals who understand your needs.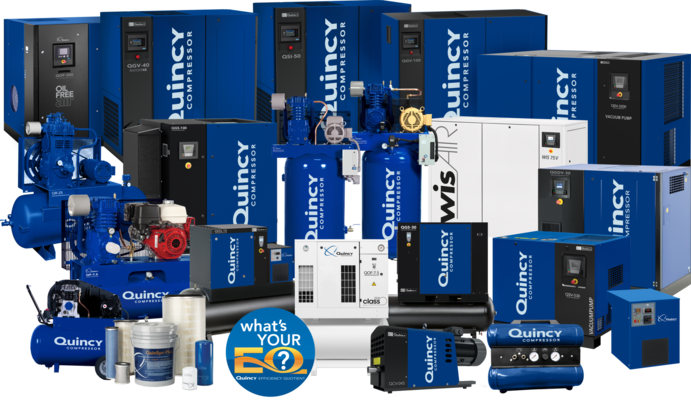 Choose From Multiple Air Compressor Options
Our Richmond location can provide a full line of Quincy Compressor products. This innovative compressed air equipment offers cutting-edge technology that has helped us remain an industry pioneer for over a century. Our offerings include:
Choose from several models within these categories to find the ideal solution for your facility or job site requirements. Our authorized dealer representatives can assist you in the selection process to ensure the equipment matches your applications and fits your budget.
Air Compressors That Meet the Highest Quality Standards
The exceptional quality of our air compressors and other equipment has been a Quincy hallmark since 1920. We manufacture all our products in the USA at an ISO 9001-registered facility. We monitor every phase of the manufacturing process and implement stringent quality control procedures to ensure maximum performance and durability. Quincy air compressors are built to handle the most extreme operating conditions.
We also support our air compressors with industry-best warranty protection, giving you extra peace of mind. You don't have to sign a contract — you can get the coverage automatically by registering the product online.
Comprehensive Air Compressor Service in Fredericksburg, Virginia
If you ever have a mechanical issue with your compressor, we're nearby and ready to help. The professionals at our Richmond location can handle all types of minor and more complex repair tasks quickly and efficiently to minimize downtime. We also carry a full selection of replacement parts to keep your equipment up and running.
Contact Quincy Compressor to Learn More
For more information about the Quincy Compressor products and services available in the Fredericksburg, VA, area, call us at 855-978-4629 to speak to an authorized dealer representative. You can also request help online by filling out and returning our contact form.