If your business relies on compressed air and vacuum tools to get work done, Quincy Compressor is your go-to air compressor company in Gainesville, Florida. Customers in industries like oil and gas, farming, food and beverage, pharmaceutical and automotive come to us for exceptional products and services, including 24-hour support through our network of local dealers.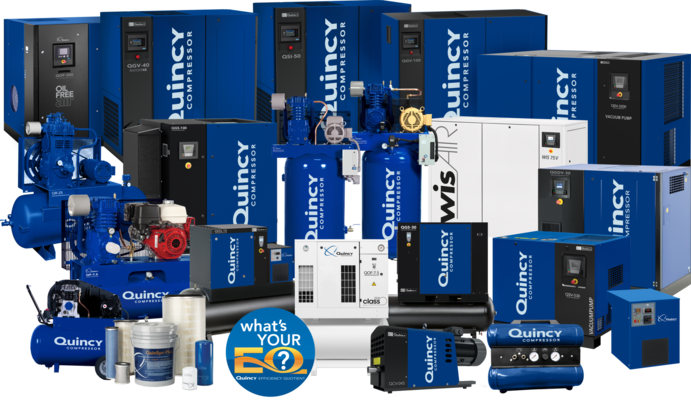 Our Large Selection of Quality Air Compressors in Gainesville, Florida
We maintain an extensive inventory of air compressors and air compressor parts. Our selection includes:
Air Compressor Repair for Gainesville Businesses
Even the best air compressor may need the occasional repair service. Whatever type of air compressor you have, you can count on Quincy Compressor for top-notch repair.  Quincy air compressors are complex machines, so Quincy Compressor provides expert assistance and reliable repair solutions to keep them running optimally. Our highly trained and skilled technicians will quickly diagnose and resolve the issue to minimize your downtime.
The best way to minimize the need for repair and keep your air compressor in peak condition is with our preventive maintenance service. We perform a series of product-specific checks to identify and fix any potential issues before they develop further and result in costly downtime.
Why Choose Quincy Compressor?
Quincy Compressor is a global leader in compressed air technology. When you work with us, you'll benefit from:
Exceptional quality: How air compressors are made matters. That's why our air compressors and parts are manufactured to meet the highest quality standards for toughness and reliability.
Industry-leading warranties: We offer the best warranty and planned maintenance programs in the business. These warranties protect the heart of your air compressor and its vital components. They are available with proper maintenance using genuine Quincy replacement parts and fluids. Extended warranty plans are also available for reciprocating and rotary screw products.
Expert support: Our network of professional and knowledgeable air experts is always here to help. We offer invaluable guidance backed by nearly a century of industry experience. You can count on us for prompt, expert service.
Quincy Compressor Is Your Top Choice for Air Compressors in Gainesville, Florida
Quincy Compressor provides the air compressors, parts and service you need to get your job done with maximum efficiency. If you live in Alachua County, our Jacksonville store is ready to serve you. Stop by to check out our inventory in person and discuss your needs with our experts. You can also contact us online or call 855-978-4629 to connect with your local Quincy Compressor representative.