The business community demands compressor systems that are up for any challenge, any day. Companies of all sizes in food and beverage, natural gas, farming and agriculture, climate control and many other industries use compressed air to keep processes moving. Quincy Compressor provides the solutions necessary to get the job done.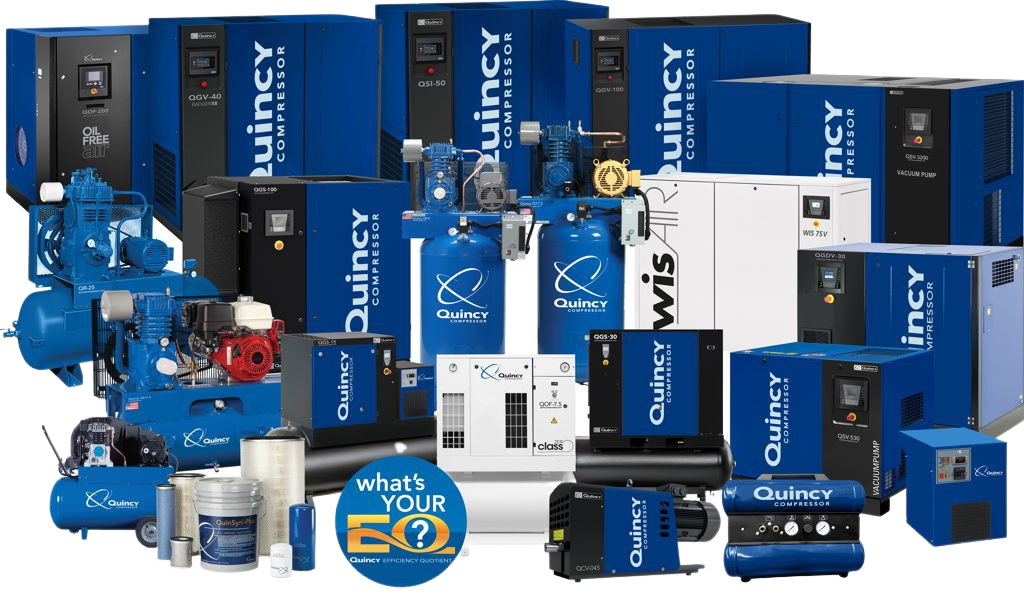 Commercial and Industrial Air Compressors for Businesses in Garland, Texas
If you use compressors in any capacity, we have a system that will meet your needs. Our product lineup comes from over 100 years of continuous innovation and industry experience — and it shows in our legendary selection of premium compressor products.
The full catalog of dependable products available through our area location includes:
Quincy compressors and other products are all American-made. We pay exceptional attention to the components and processes used during manufacturing. You can rest assured these systems are built to last and enjoy the additional peace of mind that comes with the impressive product warranties we provide.
One of our local representatives will help you examine these systems further to determine what best fits your application. We also offer custom solutions.
Mobile Air Compressor Maintenance and Repair Services in Garland
Proper care is essential for any compressor system, and we make it easy to keep up with yours. Our nearby location provides on-call air compressor repair in Garland and the surrounding area for any size and complexity compressor system that bears the Quincy name.
Expert repairs are just part of the equipment care we provide. As a Quincy direct location, we're your source for genuine parts and fluids and a selection of different maintenance and service agreements designed to simplify your responsibilities, maximize compressor performance and contribute to system longevity.
Several are available, with each offering a set of benefits to enjoy:
Parts Guardian: With a Parts Guardian agreement, it's easy to budget services. We'll agree on a set price and ship parts according to your maintenance schedule.
Preventive Guardian: A Preventive Guardian plan has even more to offer. With this agreement, you'll get your regular services performed by a trained Quincy technician.
Extended Guardian: An Extended Guardian plan covers your compressor parts and professional care, and it doubles your warranty with an extra five years of reliable protection.
Fixed Price Services: A Fixed Price Services agreement is in a class of its own. These plans are 100% customized to deliver incredible performance and provide unmatched value.
Partner With the Most Recognized Air Compressor Company in Texas
There's a lot to gain from partnering with the team at Quincy Compressor in Garland, Texas. Our location in Tarrant County is your home for local support from the world's most recognized name in industrial-sized compressed air systems. Send us some information regarding your needs, and we'll create a customized quote.
Use our contact form to get started. To speak to an expert over the phone, please dial 214-688-1677.