Quincy Compressor is known throughout the commercial and industrial sectors for producing top-of-the-line air compressors. We design and manufacture a diverse lineup of durable and rugged systems suitable for a range of applications. We also provide the expert support necessary to keep these units running in optimal condition.
If you own or manage a business in the Hialeah area and use compressors of any size, our Miami location is your home for cost-effective solutions. We are local and make it easy to get solutions tailored for your business with our diverse catalog and expert recommendations.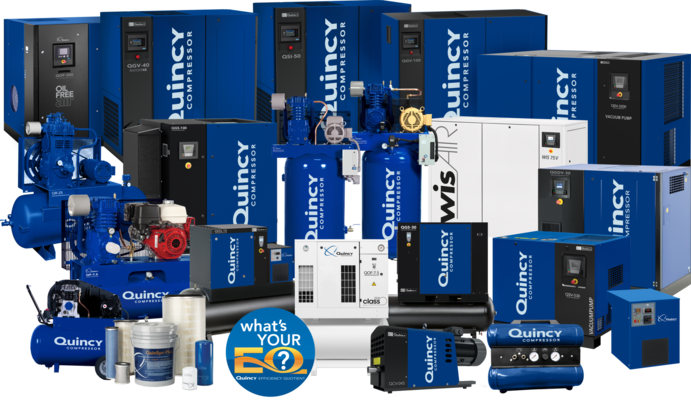 The Largest Selection of Air Compressors Near Miami
Quincy compressors are made in the USA, built using the finest raw materials and assembled by skilled hands to deliver lasting performance. They are held to the highest quality standard, made to withstand tough conditions and built to last. They also come backed by some of the best warranties in the industry.
The full lineup of products we offer includes:
Unsure which type or model best matches your requirements? Talk to our team about the capabilities you need your air compressor to deliver. We'll recommend an appropriate system from our product line or help you create a custom design from the ground up that precisely aligns with your needs. Professional installation is also available for a turnkey solution.
Choose Quincy for Expert Air Compressor Service in Hialeah
Quincy compressors come off the factory line ready to deliver the power and performance you need. Staying on top of your repairs and scheduled services is the best way to keep them consistent and operating their best. We make it easy with everything you need under one roof.
Parts
If you're performing services in-house, we'll provide the supplies you need with genuine parts and fluids direct from the manufacturer. We also have a dedicated parts team who will help you navigate our parts catalog to find everything your particular system needs.
Service
Our maintenance services are the easiest way to keep your system in peak condition and avoid unplanned downtime. We have several plans you can enroll in, from automatic parts delivery to complete system care, where a professional technician will perform everything for you at your location.
Repairs
We know how significantly downtime can throw your operation off. If you need compressor repair in Hialeah, we're available 24/7/365. Our technicians receive training specifically for Quincy systems. They are professional, fast and accurate, and they always use genuine parts and repairs for every compressor service.
Contact Quincy Compressor Near Hialeah
Reach out to our local team to learn more about the products and services we offer. You can also visit our nearby brick-and-mortar location in Miami, FL. We'll help you determine which products and services work best for your business.
Getting in touch with us is easy. Use our contact form to send us a message or call us at 855-978-4629.