Quincy compressors power some of the leading companies worldwide. If you own or manage a business in Hialeah Gardens, it's easy to get a Quincy system that meets your needs. It's even simpler to keep it in top condition through our manufacturer-direct store location in Miami.
We're right here in the local area and are your home for the complete Quincy product line. We also offer a list of expert maintenance and repair services in Hialeah Gardens to keep you productive and profitable. Talk to our team about your goals, and we'll guide you toward the right solution.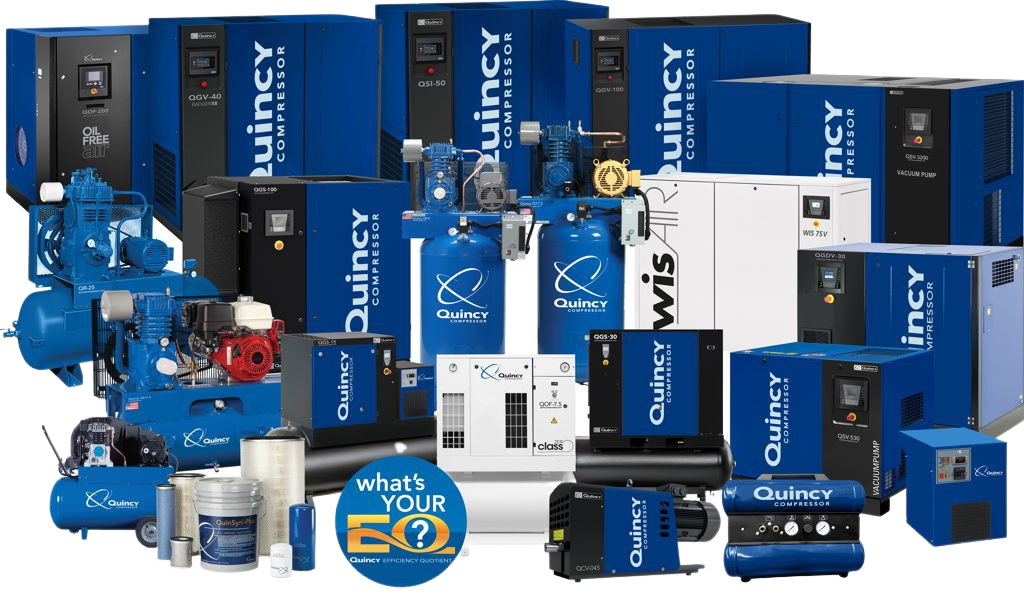 Browse a Variety of Heavy-Duty Air Compressors for Sale
We are a manufacturer-direct location with a complete list of Quincy compressors for sale, plus the ability to configure them to match your specific application. Quincy has over 100 years of experience developing and manufacturing compressor systems — and it shows in the quality and performance these products deliver. The lineup covers a list of versatile machines suited for the most challenging commercial and industrial applications.
Some of our most popular air compressor systems include:
We also offer additional products and accessories like vacuum pumps, AIRnet aluminum system piping and various air treatment products. Your representative can also help you see if our Quincy On The Air (QOTA) machine-as-a-service program is a more cost-effective alternative.
Your Home for Air Compressor Service Near Miami
Our products are made in the USA, built to superior quality standards and supported by some of the most impressive warranties you'll find from anyone in the industry. They will last for years with proper care, and we make that easy with multiple cost-effective and convenient ways to service your compressor.
We Sell Parts
Using genuine Quincy parts and recommended fluids in your services will help ensure you get the maximum performance and longevity from your investment. We also provide parts matching services to assist you in locating the right supplies for your machine's make and model.
We Simplify Maintenance
A faster and easier way to stay current on your air compressor services is to include a maintenance plan with your purchase. You can select from one of our Guardian plans or have us create and follow a custom schedule so you can focus on other goals.
We Perform Repairs
If you need repair support, you can count on us to take care of it quickly with emergency field services direct to your business. Our technicians are trained to work on the systems we manufacture. They will complete your repair quickly using recommended parts and the right procedures.
Contact Quincy Compressor Near Hialeah Gardens
Let us know about your business and the processes you need to complete, and we'll help you find a winning solution through the different products and services we offer.
Visit our nearby store location in Miami to get started. You can also contact us using our form or call 855-978-4629.