If you need an air compressor capable of handling demanding work, we have what you're looking for in the local area at a competitive price. Quincy compressors lead the industry for performance and durability, and we have their complete line — plus expert services and support — to help you get the most from your investment.
The Miami Quincy direct location is the area's leading provider of air compressors in Hollywood and the surrounding region. We are home to an experienced team of professional and knowledgeable air experts who know how to apply our products to your business. We'll help you determine which of our systems best fits your unique parameters and operating budget.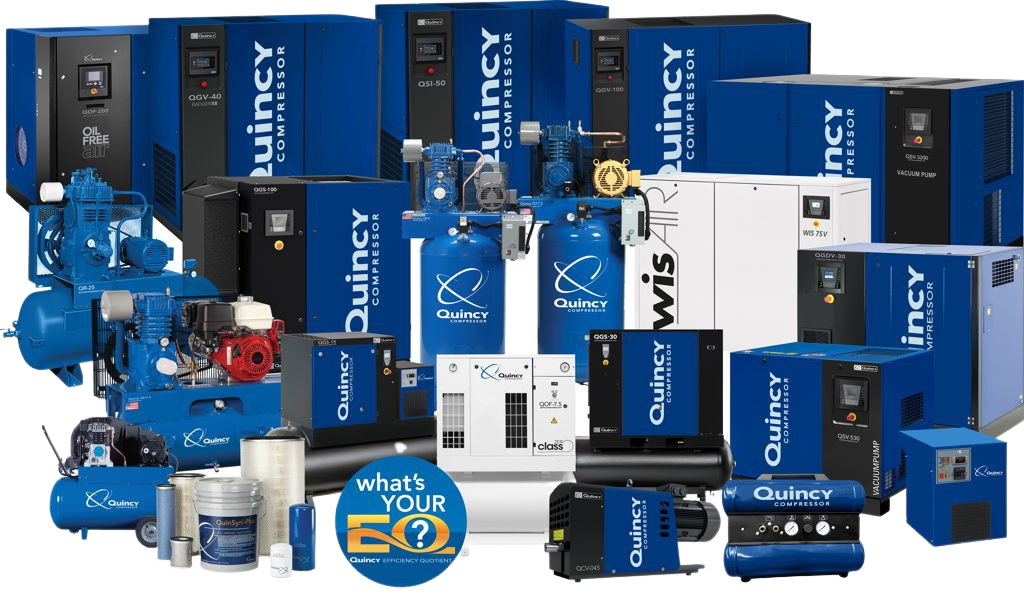 Industrial Air Compressors Made in the USA
Quincy compressors are suited for virtually every commercial and industrial application. Our products are designed and engineered by us and manufactured in the USA, where they're held to the strictest quality standards. You can depend on them to provide you with excellent value and deliver consistent performance year after year. We help ensure this by supporting our systems with some of the industry's leading product warranties.
The different products we offer include:
Air compressors: We carry an enormous variety of stationary and portable air compressors, including oil-free, multi-stage, natural gas, rotary screw and reciprocating designs.
Vacuum pumps: Our catalog includes several industrial model vacuum pumps for a range of purposes, including NFPA 99 compliant systems for medical use.
Upgrades and accessories: We have multiple air compressor system improvements and additions, including air treatment products, air system piping and efficiency upgrades.
Parts and fluids: Our Miami location carries an extensive selection of genuine Quincy parts and maintenance fluids. We'll help you build an order that includes everything you need.
Looking for a turnkey solution? Talk to your representative about our installation services, custom designs and our Quincy On The Air program.
We Offer Complete Air Compressor Service in Hollywood, Florida
We make it simple to keep your Hollywood air compressors in excellent condition. Our team can help you get everything you need to manage your scheduled services and handle repairs.
Air Compressor Maintenance
Keeping up with compressor maintenance is easy when you enroll in a Quincy service plan. Tiered options include programs that automatically supply you with the parts you need, plans with dedicated technician support and plans that add up to five more years to your product warranty.
Air Compressor Repair
If air compressors power your critical processes, we know having unplanned downtime isn't an option. That's why we provide skilled air compressor repair in Hollywood, Florida, 24 hours per day, seven days a week. Our technicians are courteous and professional, and they always use genuine parts.
Connect With the Air System Experts in Hollywood, FL
Partnering with the Quincy Compressor serving Hollywood, Florida, will provide you with systems and support you can depend on at pricing that fits your budget — plus many other additional advantages. Talk to the team at the Miami store to learn more and see how we can help you.
Use our contact form to request a quote and get more information, or dial 855-978-4629.