Quincy Compressor supplies the world with industrial air compressors made for rugged use and demanding jobs — and we have a direct location serving Irving, Texas. That means you have access to our full product catalog, expert service and a team of representatives who can help you use our products to improve productivity and your bottom line.
We partner with companies of all sizes to provide cost-effective solutions, and we'll help you overcome the challenges you're facing regardless of the industry you serve. We have systems built for virtually every application, including uses in automotive, manufacturing, agriculture, climate control, food and beverage, and many more.
Browse a Wide Selection of Air Compressors in Irving, Texas
We are your home for the complete lineup of Quincy products. Quincy compressors are manufactured here in the USA, made to last and secured by superior warranties for years of added protection. Our team can help you determine which type and model system matches your specifications and ensure you have everything you need to get up and running, including accessories and system installation.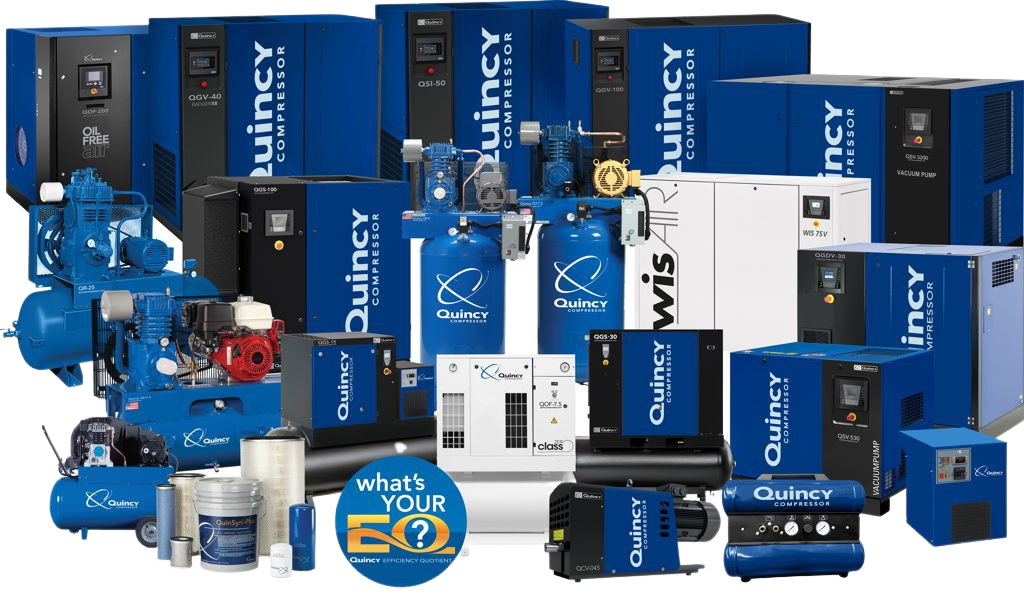 Your Irving-Area Home for Air Compressor Repair and Maintenance Services
Our compressors power some of the most critical equipment for businesses in any industry. If you need yours fixed, we make sure you don't have to wait — call us anytime for 24-hour air compressor repair in Irving and the surrounding area. We'll send a technician to you, use genuine parts and fluids, and work until you're back online.
We will also help you avoid repairs when you enroll in one of our maintenance agreements. Quincy maintenance agreements are designed to help you complete scheduled services on time. Review our Parts Guardian, Extended Guardian, Preventive Guardian and Fixed Price Services plans to find the agreement that fits your business.
These plans all offer distinct advantages, with benefits that vary based on which one you select:
More uptime: Our maintenance plans can help you achieve up to 16 more days of uptime per year
Lower costs: We'll have you set at today's parts prices, helping you budget and keeping maintenance costs down.
Added protection: Our warranties can provide you with up to five extra years of protection on top of what you already have.
Let Us Know What You Need
Quincy Compressor strives to be your go-to local air compressor company in Irving, Texas, offering world-class service and an unbeatable selection. Reach out to our team and let us know what you're looking for, and we'll help you find the right products and services at the right price.
Assistance is available over the phone by dialing 214-688-1677 or using our contact form.