Air compressors play a crucial role in industries such as food and beverage, automotive, aerospace, manufacturing, oil and gas and many others. If you own or operate a business in the Lakeland, FL, area that could benefit from high-performing compressed air equipment, Quincy Compressor is ready to help. Our Orlando location serves the Lakeland area by offering our portfolio of advanced products and supporting them with exceptional service.
Quincy Compressor has been a compressed air industry pioneer since 1920. We've established a century-long legacy of designing and manufacturing cutting-edge equipment that can meet our customers' most demanding applications.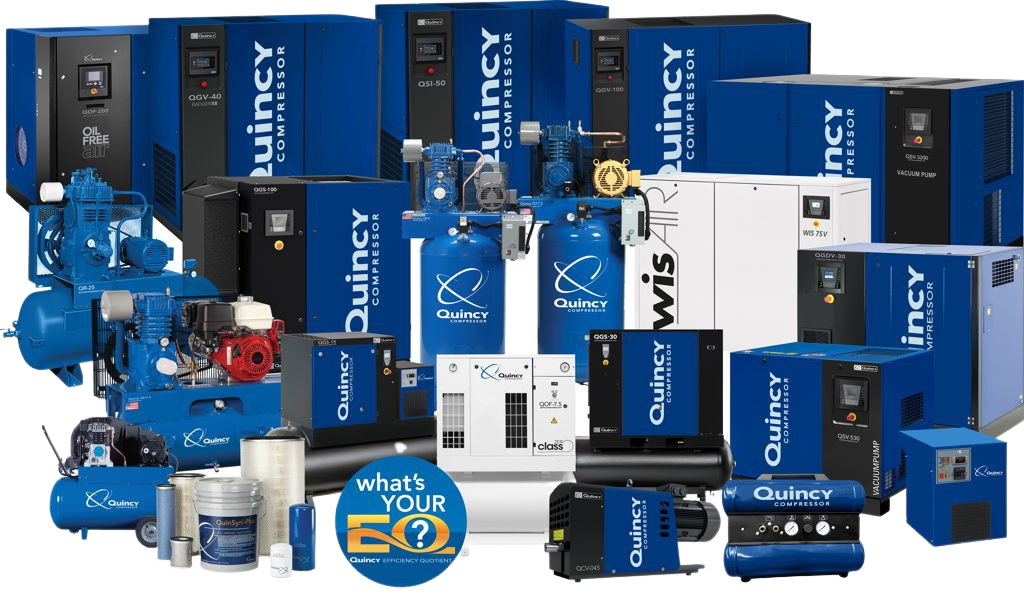 The Quincy Compressor Lakeland Product Line
Our convenient Orlando location carries a full selection of compressed air equipment to provide an efficient, productive solution for virtually any application. Choose from the following:
High-Quality Products You Can Trust
At Quincy Compressor, we understand how vital compressed air is to your daily operations. We manufacture all our equipment in the USA to meet the highest standards for quality and reliability. Our ISO 9001-registered manufacturing facility follows a carefully developed set of repeatable, scalable processes, ensuring consistent results that meet your expectations. Our motto is "Performance You Demand. Reliability You Trust," and we do our best to live up to it every day.
Complete Air Compressor Service in Lakeland, Florida
We'll be there long after you purchase your equipment to keep it performing well on the job. The proximity of our Orlando location to the Lakeland area enables us to meet all your service requirements.
We carry a full selection of air compressor parts for Quincy models, allowing you to make quick replacements as needed. Genuine Quincy parts meet the same high standards as our compressors, ensuring their long-lasting performance.
And if you ever need air compressor repair work, we're there to support you 24 hours a day. We can handle all types of minor and extensive jobs quickly and efficiently, minimizing unproductive downtime and keeping your operations running smoothly.
Contact Us for Your Air Compressor Needs in Lakeland
You're welcome to visit the Quincy Compressor location in Orlando at 8350 Parkline Blvd. to check out our air compressor lineup and meet our knowledgeable air experts. You can also call us at 855-978-4629 or contact us online at your convenience.