Reliable air compressors are crucial to many businesses in Lumberton, TX. If you need to replace aging compressed air equipment or purchase more to meet increasing demand, help is only 20 minutes away.
Quincy Compressor, a leading manufacturer of air compressors and related equipment for over 100 years, has a convenient dealer location in nearby Beaumont. You can choose the right product for your business applications and budget from a local provider. The Beaumont store is an authorized Quincy partner, meaning you'll have access to excellent service for as long as you own your compressors.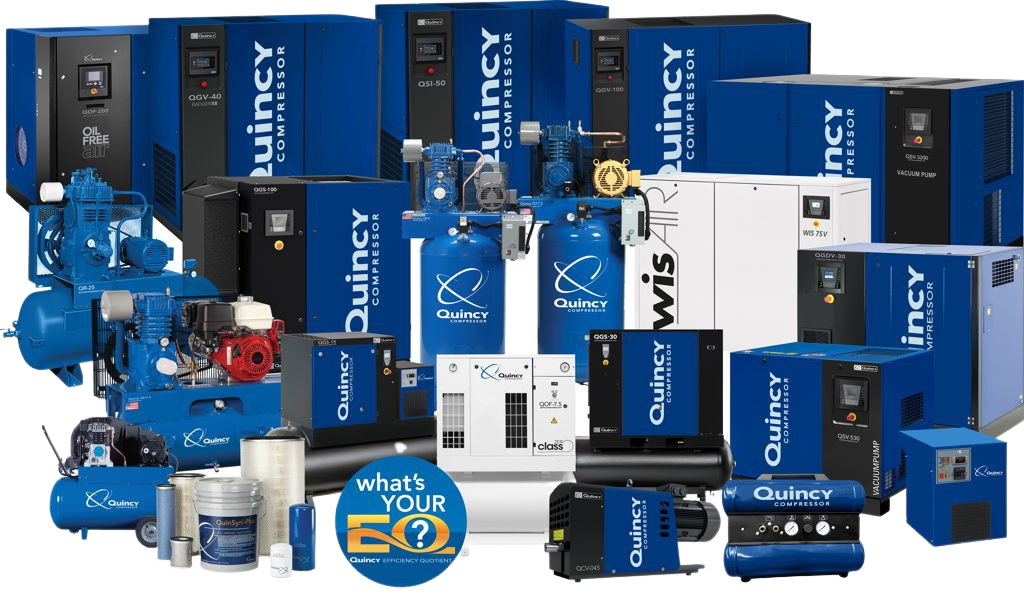 Choose From Numerous Air Compressor Models
As a leading compressed air solutions provider, Quincy strives to offer a full line of equipment to fill any need. Products are available in multiple sizes, configurations and cfm and psi capabilities in the following categories:
As part of the extensive network of Quincy partners, the Beaumont location can offer reliable product selection guidance from knowledgeable air experts who know your business. Whether your industry is manufacturing, food and beverage, energy exploration, oil and gas or any others we serve, you'll find the perfect match for your needs and budget.
Exceptional Quality Separates Us From the Rest
Air compressors must often perform in harsh conditions, but Quincy has a stellar reputation for manufacturing rugged equipment that can handle the challenge. We implement strict quality standards for all our products to ensure consistent results. You can trust them to operate productively and efficiently and deliver long-term service to your business. We also back our compressors with more comprehensive warranties than those of our competitors.
We'll Help Keep Your Air Compressors on the Job
If you ever need to fix an air compressor in Lumberton, Texas, Quincy in Houston can handle both minor and extensive repair work. We're even available to respond to "after-hours" emergencies. And if you're looking to replace worn or broken parts, we can supply the right products for your Quincy Compressor model.
Learn More About Compressors Near Lumberton, TX
Visit Quincy Compressor today at 2214 W. Cardinal Drive, Suite A in Beaumont to check out our air compressors for Lumberton businesses. Our authorized representatives will be happy to assist you. You can also call us at 855-978-4629 or fill out and submit our online contact form for additional product and pricing information.