Take production and efficiency at your Marietta business to the next level with industry-leading air compressors from a trusted name. Quincy Compressor has over 100 years of experience designing and manufacturing a wide variety of durable systems and providing expert support. Our nearby direct location is where you'll find new compressors, service and parts, plus a team of skilled air experts ready to help you meet your needs.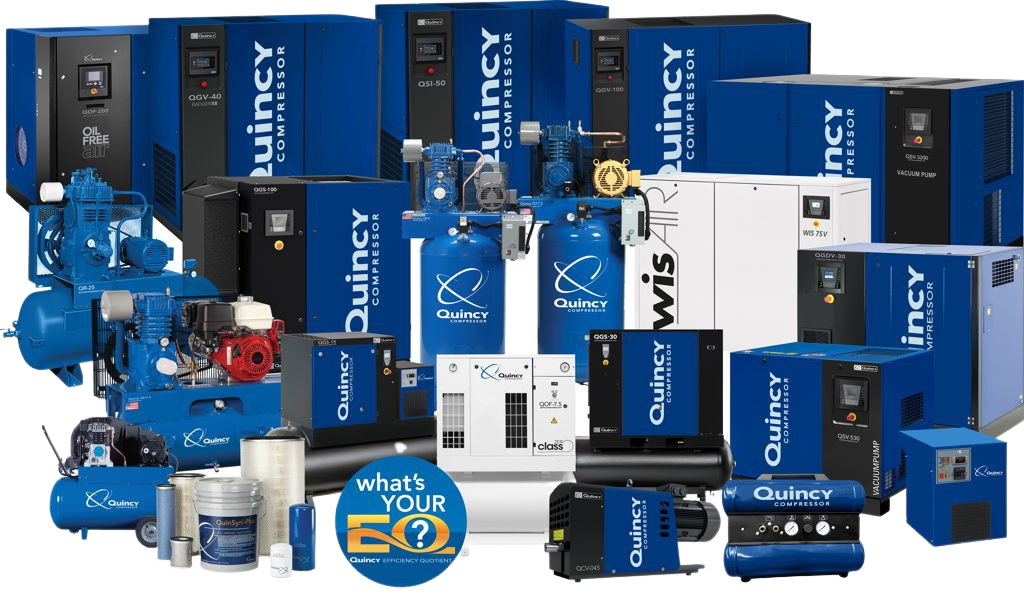 Shop a Selection of Industrial-Strength Air Compressors Near Atlanta
Quincy compressors are respected worldwide for their performance and longevity — even in challenging applications and rugged operating environments. They're designed by industry experts and manufactured in the USA using precise processes to ensure quality and consistency across our entire product line.
We have compressors in many types and sizes, with options to accommodate your needs. Our experts will help you choose the system best suited for your business and configure it to fit your processes and facility using the many different upgrades and accessories we have.
Our team can provide solutions to overcome virtually any challenge, including custom compressor design. Turnkey installation services are also available for a professional look, safe setup and perfectly calibrated end-user output. Let us know what you need to achieve, and we'll help make it happen.
Your One-Stop Shop for Air Compressor Service in Marietta, Georgia
Our compressors are made to last and built to perform. We make it easy to get the most from yours with local equipment care solutions direct from the manufacturer. The Quincy Compressor location outside Marietta has you covered for your machine's lifetime, whether you perform services in-house or want to rely on expert care.
Parts for Sale
If you're servicing or repairing your compressor, using genuine parts and fluids will help protect your machine and ensure you're getting the best performance. We have the products you need for your system with a full-stocked parts counter and team members with the skill to help you shop for what you need.
Comprehensive Service Agreements
We have several service agreements that simplify system care. You can receive automatic parts delivery or have one of our technicians take care of your compressor to save time and gain added peace of mind. Talk to our team about the different plans we have and the benefits they offer.
On-Call Compressor Repair
Unexpected downtime can happen to any compressor. If that happens to you, call us for a rapid fix. Our Atlanta location provides expert air compressor repair in Marietta and the regional area using trained mobile technicians. Repair services are available 24/7/365 and are performed using genuine Quincy parts.
Contact Quincy Compressor for Sales and Service in Marietta
Stop by our Atlanta store to browse our systems and meet our team. We'll guide you through our product line and help you determine the smartest way to support your machine for as long as your business uses it.
You can also learn more about our products and request product quotes using our contact form or by calling 855-978-4629.
What Our Customers Say About Quincy
They are prompt, courteous, and the product is reliable. We have been very happy with both of our Quincy units and the support.
– Alan, Georgia