So many industries depend on compressed air — automotive, energy, manufacturing, construction and oil and gas are just a few examples. If you run a business in one of these sectors or any other industry in Mechanicsville, VA, you can count on Quincy Compressor in Richmond to meet all your needs.
Quincy Compressor has been setting the standard for air compressors and related equipment for more than a century. We've established an excellent reputation for developing innovative solutions that we deliver through our network of authorized partners, including a full-service location in Richmond. You'll get the reliable product your business needs and receive timely service from a local dealer you can trust.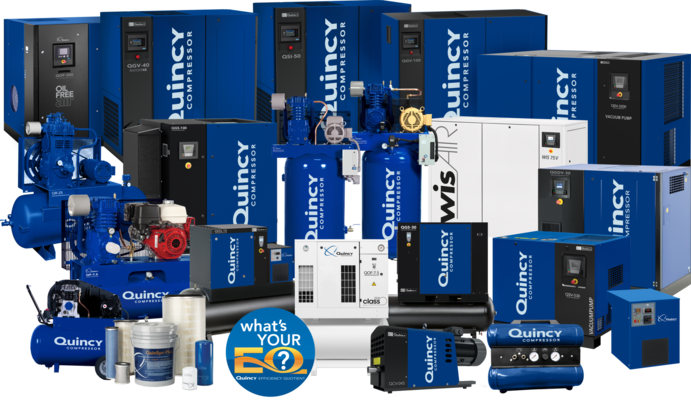 Choose From an Assortment of Compressed Air Products
Quincy Compressor offers an extensive product line to our Mechanicsville customer base. Select from various models in the following categories:
We back our equipment with a comprehensive warranty for your protection and peace of mind. You can get coverage by registering your new air compressor online — you don't need to sign a contract. Extended warranties are also available if you wish to lengthen the time frame.
High-Quality Compressors Made in the USA
Although you can find Quincy products serving companies around the world, we still produce our equipment in America. We institute more stringent quality control procedures than our competitors who rely on overseas manufacturers. We implement our repeatable processes in our ISO 9001-registered facility under closely monitored conditions. Quality is never an issue when you buy a Quincy compressor in Mechanicsville.
Complete Air Compressor Service in Mechanicsville, VA
Our Richmond location can also help with all your service needs. You'll find all the replacement parts you require to keep your Quincy product performing well at your facility or remote job site. We can also handle all your repair demands, ranging from minor fixes to more extensive overhauls. Additionally, we're only about 15 minutes from the Mechanicsville area, which means we can be there quickly in an emergency  even if it's after business hours.
Check Out Our Selection of Air Compressors in Mechanicsville, Virginia
Stop by our Richmond location today to see our air compressor line in person. You can also call us at 855-978-4629 to speak to a local representative or fill out and return our online contact form.