If your business uses compressed air, let us help you become more productive, efficient and profitable with access to the industry's leading machines. Quincy Compressor is known throughout the world for delivering superior performance in demanding conditions day after day, year after year. Our store location in Miami is your local partner for systems and support directly from the manufacturer.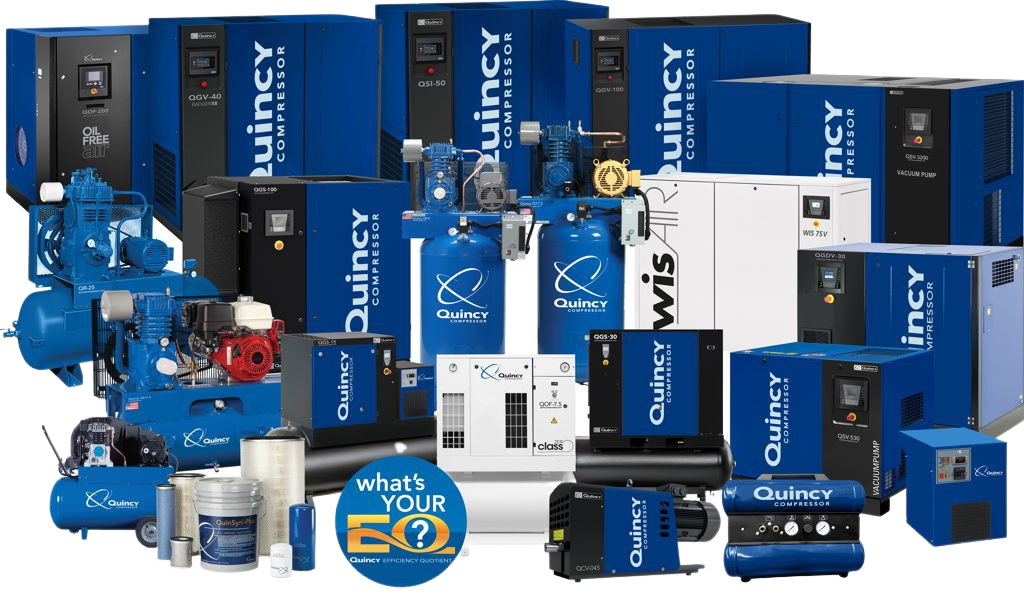 Compare Air Compressors Suited for Every Application
Quincy compressors are built using American manufacturing. These systems have the benefit of over 100 years of experience poured into their development. We assemble them to precise standards in an ISO-9001-registered facility and hold them to the highest quality standard, ensuring the uncompromising quality, consistent performance and lasting durability you expect from a Quincy machine.
Our product lineup includes a wide range of different compressor systems, including reciprocating, rotary screw, natural gas and oil-free systems. We also offer rugged vacuum pumps, air treatment products and additional system accessories that will help you get more from your machine. You also have the option to work with an air expert to create a custom design configured to meet unique specifications.
The experts at our Miami store location will work with you to determine which of these options offers the maximum advantages and value for your business. You can also explore our Quincy On The Air service as an alternative to purchasing, where you get all the air you need for a set monthly rate. Expert installation is available for our compressor units to simplify the process.
Care for Your Investment With Quincy Air Compressor Service Near Miramar
Whether you perform maintenance and repairs in-house or would like to rely on a provider, we have you covered. Our Miami location carries a complete inventory of genuine Quincy parts for sale, plus the other fluids and supplies needed to perform services. Buying parts from us is a simple experience. Let us know the scheduled service or repair you need to complete, and an expert will recommend everything necessary to get the job done.
We also offer the option to streamline your compressor care by enrolling in a Quincy maintenance agreement. Maintenance agreements are the simplest way to ensure your compressor performs as designed and withstands the test of time. They can also help you achieve significant cost savings and get up to 16 more days of uptime per year. We'll recommend which one will best fit your needs and budget and work out all the details.
24-Hour Emergency Compressor Repair Is Available
If there's an emergency and your compressor goes down, call us and we'll dispatch a technician to your location through our network of providers. Mobile air compressor repair in Miramar, Florida, is available 24 hours per day. Our technicians are trained professionals who will work hard to minimize your downtime.