When compressed air plays a major role in your industrial facility, it's crucial that you secure dependable and efficient equipment to get the job done right. When you invest in high-quality air compressors for your applications, you ensure that your operations move as quickly and reliably as possible. Purchasing air compressors from an expert manufacturer equips you with a quality, lasting solution.
At Quincy Compressor, we provide customers across countless industries with superior-grade air compressors in North Carolina. We've been in business for over 100 years, developing innovative solutions built to weather even the most challenging applications and environments. With our expansive product selection, you'll be sure to find the products to serve you.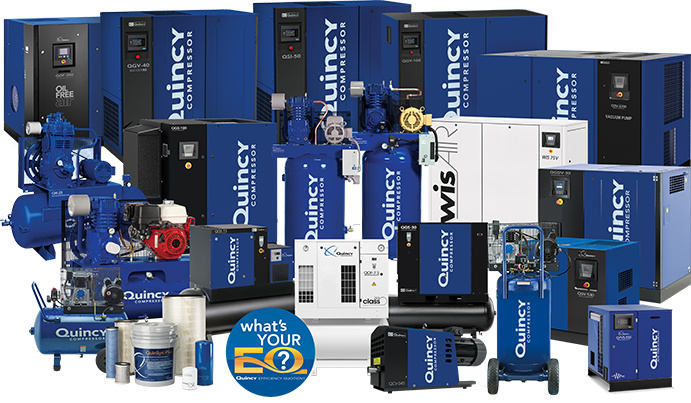 Air Compressors We Carry in North Carolina
When you come to our North Carolina Quincy location, you'll find a comprehensive inventory of industry-leading air compressor solutions designed to take on applications in demanding industrial environments without compromising quality or performance. Our products benefit from our many years of design developments and manufacturing innovations, resulting in their reputation for uncompromising dependability, high quality and premier performance.
We have compressor products to suit a wide range of customer needs, with a selection including:
Air Compressors for Your Company's Industry
We've served as leaders in air compressor technology for over a century, meaning we have the knowledge and experience needed to understand your company's compressed air needs. We share our expertise with our customers, giving them helpful and informed guidance in choosing the best compressor products for their facilities and applications. Thanks to our network of authorized dealers, we also offer 24-hour services to help our customers keep their operations on schedule.
Quincy compressors are highly versatile solutions equipped to take on a wide array of industrial applications. Some of the fields our products have served include:
Mining
Oil and gas
Automotive
Manufacturing
Plastics
Energy
Plumbing
Food and beverage
Pharmaceutical
Dry cleaning
Textiles
Aerospace
Our North Carolina Service Areas
You can find Quincy air compressors across North Carolina. We partner with various dealers located throughout the state and operate out of our direct location in Charlotte. Our Charlotte store is conveniently located near many North Carolina cities, such as:
Matthews
Indian Trial
Mint Hill
Cornelius
Mount Holly
Huntersville
Concord
Rock Hill
You can visit our Quincy Compressor location at 6600 Northpark Boulevard A in Charlotte, North Carolina. This store is located conveniently off Interstate 77.
Buy Air Compressors in North Carolina at Quincy Compressor
You can find dependable and efficient air compressors for your North Carolina company at Quincy Compressor. With decades of experience in the industry, we're known for our top-quality products, legendary performance and reliable service. When you come to us for your air compressors, you can expect nothing less than the most rugged, high-performance solutions on the market paired with our comprehensive warranties.
Contact us to learn more about our products, or visit a Quincy dealer near you!