If yours is one of the many businesses in Orange, TX, that needs air compressors, you want the best equipment for the job. Quincy Compressor in Beaumont is just 30 minutes away and ready to help.
Quincy Compressor is one of the most recognized brands in the industry. We've been producing innovative solutions for more than 100 years — we've remained at the forefront of compressed air technology. Our full-service Beaumont store can also take care of all your repair, maintenance and replacement part needs. You'll get it all from one convenient location.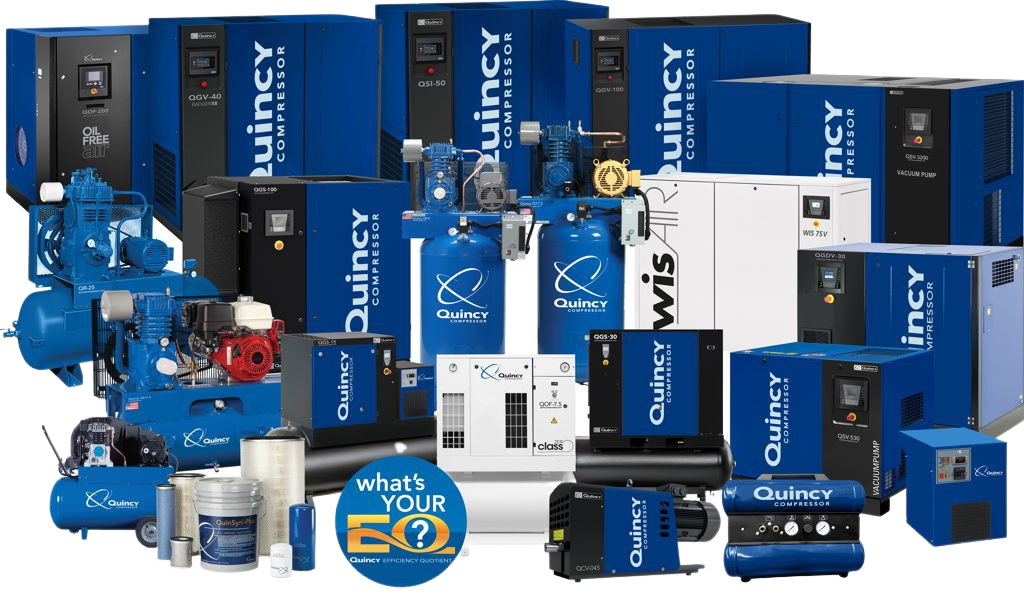 Compressed Air Equipment for Your Industry or Application
Quincy in Beaumont carries the latest Quincy Compressor products for industries ranging from oil and gas and energy exploration to automotive, manufacturing, food and beverage and many others. Our broad selection of air compressors for sale in Orange, Texas, encompasses the following product categories:
Our partners in Beaumont can simplify the selection process and help you make the right choice for your business. You'll have confidence that you're purchasing the right size, configuration and capacity for your budget and applications.
Quality Is a Quincy Priority
You never have to worry about reliability, durability or longevity when you buy a Quincy Compressor product. We manufacture our equipment in an ISO 9001 facility under tightly monitored conditions while adhering to the highest quality standards. You can trust our century-long track record of excellence. We also back our compressors and other equipment offerings with the industry's best warranties, giving you extra protection and confidence.
Complete Service After the Sale
Once you've purchased your new compressor, you can trust us to help you keep it working correctly. You'll find a wide assortment of replacement parts in Beaumont for Quincy models. When it's time for repairs, we can have your equipment up and running again in no time. Around-the-clock service is also available to ensure a prompt response to any emergency.
Learn More About Air Compressors Near Beaumont, Texas
Browse Quincy compressors online to find the right product for your Orange, TX, business. You can also stop by our Beaumont store at 2214 W. Cardinal Drive, Suite A for a closer look. If you have questions or want more product or pricing information, call us at 855-978-4629 or fill out and return our contact form.