Businesses that depend on compressed air to get their jobs done trust Quincy Compressor to provide the reliable air compressors and parts they need. Our compressed air solutions are essential to many industries, including food and beverage, pharmaceutical, oil and gas, automotive and manufacturing. With our wide range of products and 24-hour support from a network of local partners, Quincy Compressor has your compressed air needs covered.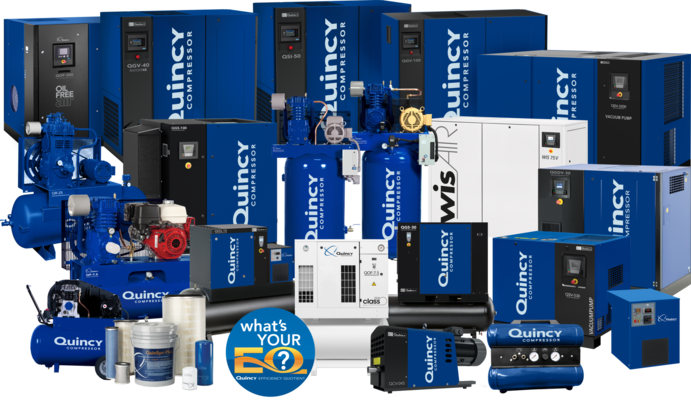 Types of Air Compressors Available in Palm Coast, Florida
Our vast selection of air compressors and parts includes:
Air Compressor Repair Throughout Flagler County, Florida
At Quincy Compressor, we provide expert repair service. Our air compressors are complex precision machines and require specific knowledge and experience to repair properly. Our highly trained technicians know what to look for and how to provide the quickest, most reliable repairs that get your machine back to work with minimal downtime.
Early detection is key to preventing small issues from developing into major problems. We offer cost-effective preventive maintenance service plans to help you stay on top of your air compressor's health and save money on repairs over the long run. Your technician will take product-specific diagnostic and troubleshooting steps to identify potential issues and fix them promptly. Some of our plans even yield extended warranty coverage and greater uptime over the machine's life span.
What Makes Quincy Compressor a Top Air Compressor Company in Palm Coast, Florida?
When you work with Quincy Compressor, you can count on:
Expertise: We are a global leader in compressed air technology with nearly a century of industry experience. We help our customers find the right air compressor solutions for all their needs.
Quality: We design and manufacture our air compressors and parts to meet the highest quality standards. You can rely on our products to provide superior toughness and reliability in any application.
Warranty options: You'll gain access to our industry-leading warranties through proper maintenance and use of authentic Quincy Compressor replacement parts and fluids. These warranty programs cover the heart of your air compressor and its crucial components. We also offer extended warranties on rotary screw and reciprocating products.
Contact the Quincy Compressor Serving Palm Coast
Quincy Compressor is your go-to source for industry-leading compressed air products and services. If you want to see our selection of air compressors and parts in person, visit our store in Jacksonville, Florida. You can also call 855-978-4629 or reach out to us online and we'll connect you with your local Quincy Compressor representative.