Quality Air Compressors in New Jersey
Compressed air is vital to a range of industries, and many do not realize how important a good air compressor is until they need one. Fortunately, for those businesses seeking air compressors in Pine Brook, NJ, Quincy Compressor, formerly Scales Industrial, is here. We are a leader when it comes to air compressors and air compressor parts in Pine Brook, NJ, as well as select parts of NY, CT, MA and other Northeast locations.
Whether you work in the food and beverage, petrochemical, aerospace or any other industry that requires compressed air, we have the air compressor for you — one that will deliver reliable airflow with great power, and one that is sure to last. Our experienced team will assist in analyzing your needs to help you find the air compressors in Pine Brook, NJ, best suited to your applications and work environments.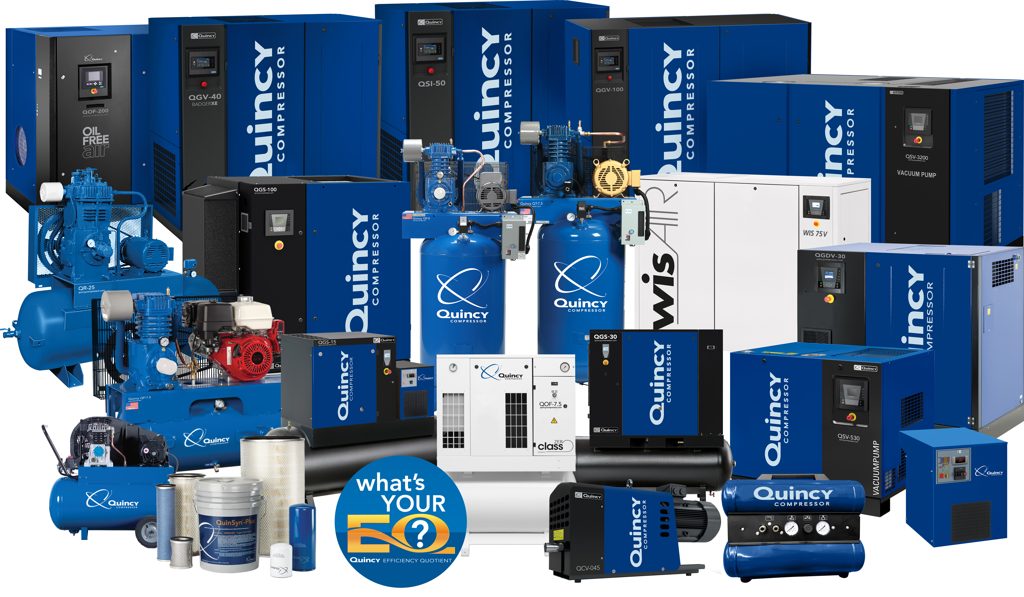 Your Quincy Compressor Options for Air Compressors in Pine Brook, NJ
Not all air compressors are created equal. If you are in the market for new air compressors offering uncompromising reliability and performance in the most demanding jobs, you've come to the right place. All of our air compressors are of the highest quality, but not every type of air compressor is right for every situation. That's why we offer a wide range of solutions, including:
Additional Products for Sale at the Quincy Compressor, Formerly Scales Industrial, New Jersey Location
At Quincy Compressor, we strive to be your single source for top-of-the-line industrial compressor equipment at competitive prices. In addition to our air compressors, we carry a variety of other products in stock. For example, we have a large selection of vacuum units and air treatment solutions.
Quincy Compressor, formerly Scales Industrial, in New Jersey offers a full range of compressor controls to meet your industrial requirements. Whether you need new sequencers, control panels and variable frequency drives, or a compressor controller upgrade, we have you covered. We also carry processing cooling equipment ranging from chillers and dry fluid coolers to evaporative cooling towers.
Quincy Compressor/Scales Industrial in New Jersey Directions and Capabilities
Quincy, formerly Scales Industrial, is located at 19 Chapin Road in Pine Brook, NJ, just a short drive away from New York City. We are conveniently situated close to the intersection of Interstate 280 and Interstate 80 and just off Highway 46 in Pine Brook. When you partner with us, you will find the same high-quality products and dedication to excellent service and support you had come to expect from Scales Industrial for over 50 years. From a full range of compressed air solutions to innovative, state of the art industrial technologies, we're the go-to source for everything you require.
We're proud to take over for a company recognized for helping its customers operate safer, smarter and more efficiently. In addition to being the compressed air authority in the region, we also offer complete service capabilities for all types of mechanical equipment. From turn-key installations, troubleshooting, maintenance programs and fluid testing to a full selection of air compressor and industrial parts, we're your one-stop-shop in NJ.
Why Is Quincy Compressor Pine Brook, NJ the Right Choice for You
Quincy Compressor is more than just a provider of high-quality air compressor products. We work with local partners to make sure you get the best air compressor service possible. We have 24-hour sales and support, so you'll always have peace of mind when it comes to your air compressor, and we're well-known for offering some of the best air compressors in the business.
Additional reasons to partner with us for air compressors in Pine Brook, NJ include:
Industry-leading warranty protection plans for a broad range of products
Extended warranty options for both reciprocating and rotary screw equipment
Trusted company committed to your satisfaction and success
Directions to Our Pine Brook, NJ Location
Quincy Compressor is located at 19 D Chapin Road, Pine Brook, NJ. If heading east on route 46, our business location is off to the right. You will merge onto Chapin Road from route 46.
Get Directions
Get in Touch with Your Pine Brook, NJ Quincy Compressor Sales and Service Provider
If you want air compressors that perfectly fit your business and that you know you can rely on, you know who to contact. There's no time like the present either — just get in touch with us by filling out a contact form or calling 973-890-1010 today. We'll be happy to answer all your questions and assist in placing your order for air compressors and related products from Quincy Scales Industrial in NJ.