If your business needs compressors to stay productive, partner with a name you trust. Quincy compressors are superior systems you can depend on for consistent and lasting performance — and have been for over a century. They are made using quality raw materials, produced in the USA, manufactured in an ISO-9001-registered facility and backed by impressive extended warranties.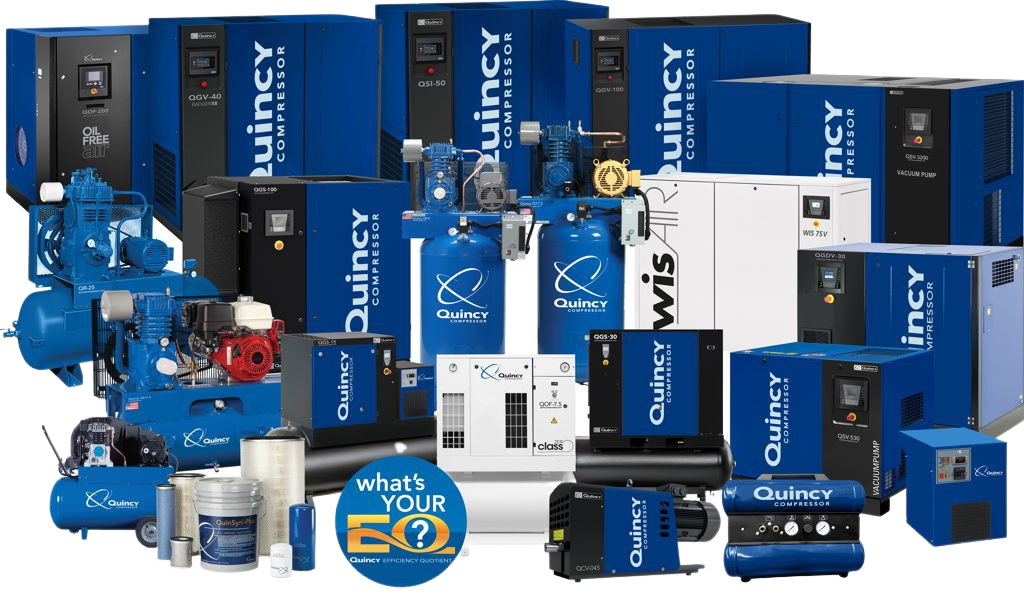 View an Expansive Selection of Air Compressors Near Plantation, Florida
Countless businesses in the Plantation area rely on compressed air solutions. At Quincy Compressor, we have products fit for them all. Our product catalog includes dozens of different models of air compressors, vacuum pumps and accessories that all deliver unique features, advantages and benefits depending on the application.
The full list of products we offer includes:
Professional installation is available, as is custom design. We also have a machine-as-a-service program available where we'll supply and maintain everything you need for a predictable monthly cost. Talk to us about your needs. We'll let you know what each of our solutions offers and help you determine your best fit.
Your One-Stop Shop for Air Compressor Service in Plantation, Florida
Air compressors are machines, and machinery works best when it's maintained in peak condition. Our local Broward County store location makes it simple to take care of your compressor system with convenient and affordable service solutions:
We offer parts: We keep a large, on-hand inventory of compressor parts available for over-the-counter purchase. We also provide the option to enroll in a Parts Guardian plan where we'll set you up with a fixed parts price and regular deliveries for simplified in-house equipment care.
We perform maintenance: Our Preventive Guardian, Complete Guardian and Fixed Price Services agreements include having a trained technician perform your scheduled maintenance services. Fixed Price Services are the most comprehensive and are custom-built to meet your needs.
We complete repairs: We help you avoid the mounting costs and hassles of unplanned downtime with 24-hour air compressor repair in Plantation, Florida. Our technicians will come to your location and work fast to bring your system back online using Quincy recommended processes and parts.
The Advantages of Partnering With Quincy Compressor
Quincy compressors stand out for their performance, value and reliability. When you work with us, you gain a direct connection to the latest products we offer and the manufacturer-direct expertise you need to help you get the most from your investment.
You'll also gain the benefit of:
World-class equipment.
Local sales and service support.
Industry-leading extended warranties.
Solutions customized to meet your needs.
Request a Quote
At Quincy Compressor outside Plantation, Florida, we're looking forward to helping you save time, reduce costs and improve your process quality with innovative equipment solutions and superior support. Get in touch with us today to connect with our team and receive a custom quote.
Call our Miami store at 855-978-4629 to get started or contact us using our form.
What Our Customers Say About Quincy
Overall excellent experience! Look forward to continually working with Quincy and thank you for all your assistance in getting me what I was looking for!
– Mark, Florida