Give your business the benefit of the industry's leading air compressors and superior customer service directly from the manufacturer. The Quincy Compressor direct location in Miami is home to a diverse lineup of powerful systems. We also have a team of skilled experts who can help you select the right type and model to match your needs and provide you with ongoing support for the lifetime of your investment.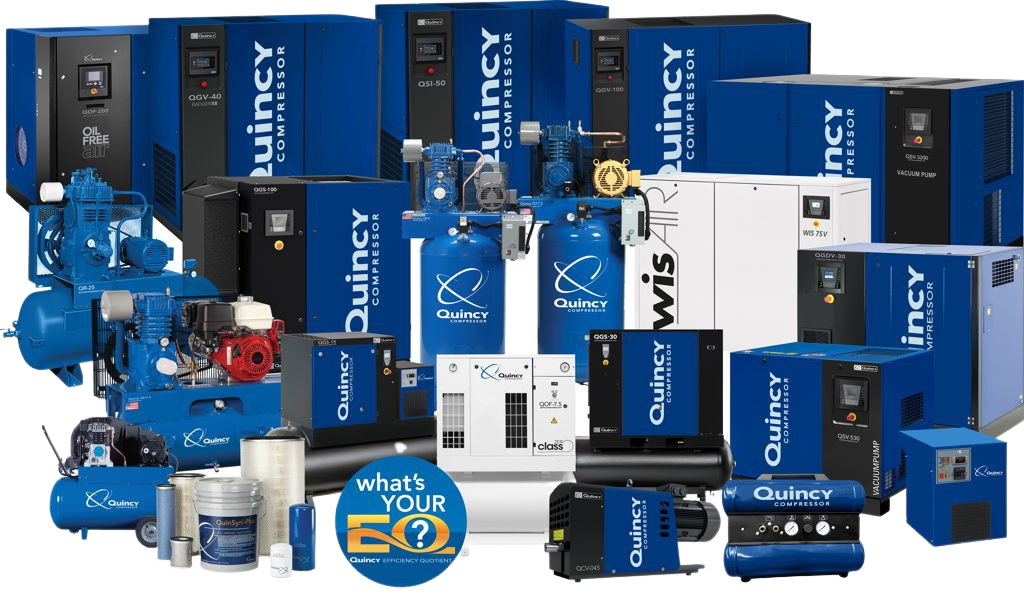 Find the Right Quincy Compressor in Pompano Beach
Selecting the right compressor is an important decision, whether you're looking for a small shop unit or an industrial-sized machine to power critical processes. We take the pressure off with expert guidance every step of the way and matching services to help you find the right system based on your facility, processes and budget. We can also take your purchases across the finish line with turnkey installation services in Pompano Beach performed by trained technicians.
Quincy compressors are built in the USA, made with pride and backed by leading extended warranties. The complete product catalog includes:
Another option is to enroll in our Quincy On The Air program (QOTA). QOTA is a machine-as-a-service plan involving no capital investment. You pay a predictable monthly rate for the service you need while we supply the equipment and expert care. Talk to your representative to learn more about this innovative solution.
Get Expert Air Compressor Service in Broward County
As a Quincy direct location, we are where you'll find the parts and maintenance fluids necessary to care for your compressor and make repairs. Our parts team has the skill and schematics to help you find what you need quickly and can offer tips on proper service completion if you'd like.
We offer even more support with several comprehensive solutions that make it easier to give your compressor what it needs, with options including:
Guardian Plans: Our Guardian Plans are convenient maintenance solutions that each offer distinct advantages. These include paying the same parts prices, having services performed by a trained technician and getting up to five more years on your extended warranty.
Fixed Price Plans: Quincy Fixed Price Services are custom-built around your business needs. We develop a schedule based on your installation, facility, operating hours, usage, site conditions and more, then provide the labor and parts for a fixed monthly rate.
Compressor repair: If you need air compressor repair in Pompano Beach, we can have a technician there fast with everything necessary to get your system back up. Compressor repair services are available 24/7 to match your operating schedule.
Request a Quote Today
Our Miami location is close by, and we invite you to come and visit us. Our team can walk you through our systems and services to show you all the ways you can benefit from partnering with us. You can also request a quote and get more information by reaching out to us online or calling 855-978-4629.