Do you need compressed air in or around Port Aransas, TX? With a location in nearby Corpus Christi, Quincy Compressor is your one-stop headquarters for high-quality air compressors and related equipment. We serve a broad range of industries, including aerospace, energy, food and beverage, oil and gas and many others.
Quincy has been setting the standard for the compressed air industry since 1920. Our Corpus Christi store carries a wide selection of innovative equipment that will add value to your work processes. You'll also receive excellent service from a local partner that understands your business.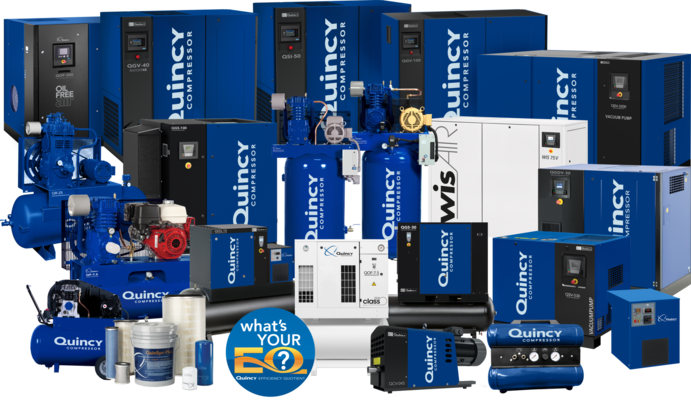 Choose From Various Types of Air Compressors Near Corpus Christi
Our Port Aransas customers have numerous air compressor options. Choose from the following product categories:
You'll find multiple sizes and configurations within each category, enabling you to find a customized solution for your work environments and applications. Our professional and knowledgeable air experts in Corpus Christi can help you choose the right product for your needs and budget. You'll also have access to industry-best warranty protection, allowing you to make your purchase with complete confidence.
Quality That Makes a Difference
An unwavering commitment to quality has been a Quincy Compressor hallmark for more than a century. Our compressors deliver reliable performance in the most demanding operating conditions. We implement the most stringent quality control procedures in our ISO 9001-registered facility, ensuring consistent, repeatable results. Energy-efficient solutions are also available for businesses looking to lower their operating costs and reduce their carbon footprint.
Comprehensive Service for Air Compressors in Port Aransas
Once you've purchased your compressor, we'll be there to take care of it. Our authorized partners in Corpus Christi can provide all the replacement parts you need to keep your equipment on the job. Since we're only approximately 45 minutes from the Port Aransas area, we're available to provide prompt repair service, even when an "after-hours" emergency occurs.
Explore Your Compressed Air Options Today
You'll find the Quincy Compressor store at 4902 Ayest St. in Corpus Christi. Feel free to stop by for a closer look at our air compressor lineup and receive friendly, personalized service. You can also request product and pricing information by calling us at 855-978-4629 or filling out and returning our online contact form.