Companies in industries such as automotive, oil and gas, pharmaceutical, textiles and many others need compressed air to operate efficiently. If you're looking for new air compressors in Portland, TX, Quincy Compressor has the right products for your applications. We're just across Nueces Bay in Corpus Christi — you'll receive service from a local distributor that understands your business.
Quincy Compressor has been providing advanced compressed air solutions for over 100 years. We have a stellar reputation for designing and manufacturing durable equipment that performs well in the most challenging environments. And with attentive service from a local authorized partner, you'll get maximum long-term value from your air compressors.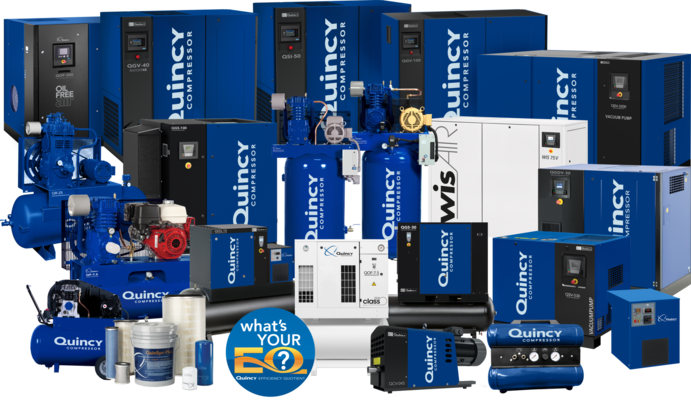 An Extensive Selection of Compressed Air Products in Portland, TX
Quincy Compressor carries a wide array of air compressors to meet the needs of any business in Portland, TX. Choose from multiple equipment options in several product categories:
You'll find equipment in an assortment of sizes, configurations and capacities to handle any project. Our authorized partners in Corpus Christi can guide you through the selection process and make informed recommendations you can trust. You'll also get peace of mind from the best warranty coverage in our industry.
Uncompromising Quality Is a Quincy Hallmark
An unwavering commitment to quality has been a primary Quincy Compressor focus since 1920. We produce our equipment in an ISO 9001-registered facility in a tightly controlled manufacturing environment, significantly reducing the risk of defects that could affect performance and longevity. We also take pride in our consistency from one production run to the next — you'll always know what you're getting when you purchase compressors from us.
We'll Help You Take Care of Your Air Compressors
Quincy Compressor in Corpus Christi also provides timely air compressor service in and near Portland, Texas. Count on us to handle your basic repair needs and around-the-clock emergency work to minimize downtime. We also carry a large inventory of replacement parts for Quincy models. Our goal is to help you get the most from your Quincy products and maximize their life span.
The Best Choice for Air Compressors Near Corpus Christi
Discover what separates Quincy from the other air compressor suppliers in and around Portland, TX. Stop by our Corpus Christi store at 4902 Ayest St. today. You can also call us at 855-978-4629 or complete and submit our online contact form.