Air compressors are essential equipment in many industries. If you operate a business in Robstown, TX, and are looking to enhance your compressed air capabilities, Quincy Compressor in Corpus Christi can help.
Quincy Compressor has been introducing the most innovative solutions to the compressed air industry since 1920. We put our century of experience into every product we design and manufacture, ensuring maximum productivity, efficiency and longevity. Our extensive network of distribution partners — like our full-service location in Corpus Christi — is there to support our customers every step of the way.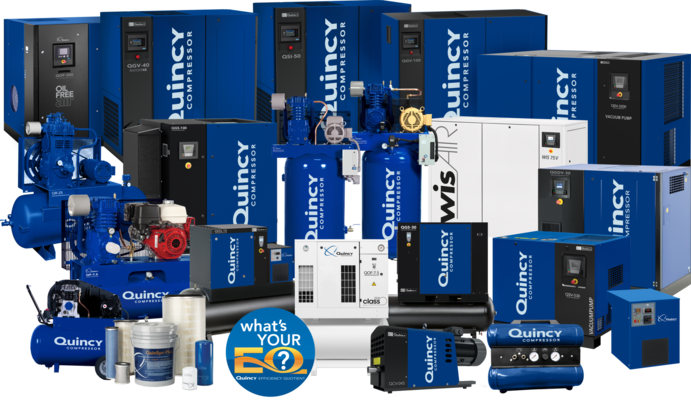 Choose From an Array of Compressed Air Products
Quincy offers numerous compressed air options to the Robstown market. Select from various models in the following product categories:
The professional and knowledgeable air experts in Corpus Christi understand the Robstown market's unique needs. Regardless of your business or industry, you'll get expert product selection assistance you can trust. You can also receive industry-best warranty coverage when you register your new air compressor online, giving you extra protection and more peace of mind.
Reliable Equipment That Gets the Job Done
Quincy products come from an ISO 9001-registered facility that implements strict quality control protocols. The repeatable manufacturing processes ensure consistency — you can trust your air compressor to perform well in the most challenging conditions. When you trust Quincy Compressor's proven track record for dependability and durability, you can expect your equipment to deliver long-term service to your business.
Excellent Service for Quincy Compressor Equipment
If you ever need air compressor repairs near Corpus Christi, you can count on Quincy Compressor to handle every job. We're only 20 miles from the Robstown area, enabling us to deliver a quick response. We even offer 24-hour emergency service — we're a quick phone call away whenever you need us. When it's time to replace worn or broken parts, you can take advantage of our extensive inventory of replacement products for Quincy models.
Look No Further for Air Compressors Near Corpus Christi
Visit the Quincy Compressor store at 4902 Ayest St. in Corpus Christi to see our air compressor lineup in person and meet our product experts. If you have questions and would like to speak to a local representative, call us at 855-978-4629. You can also reach us online by completing and returning our contact form.