Providing your Roswell, Georgia, business with reliable compressed air is simple with equipment and support from a global leader here in your backyard. Quincy Compressor has an authorized dealer location in Atlanta that provides the entire region with expert sales and service on our full line of powerful compressors.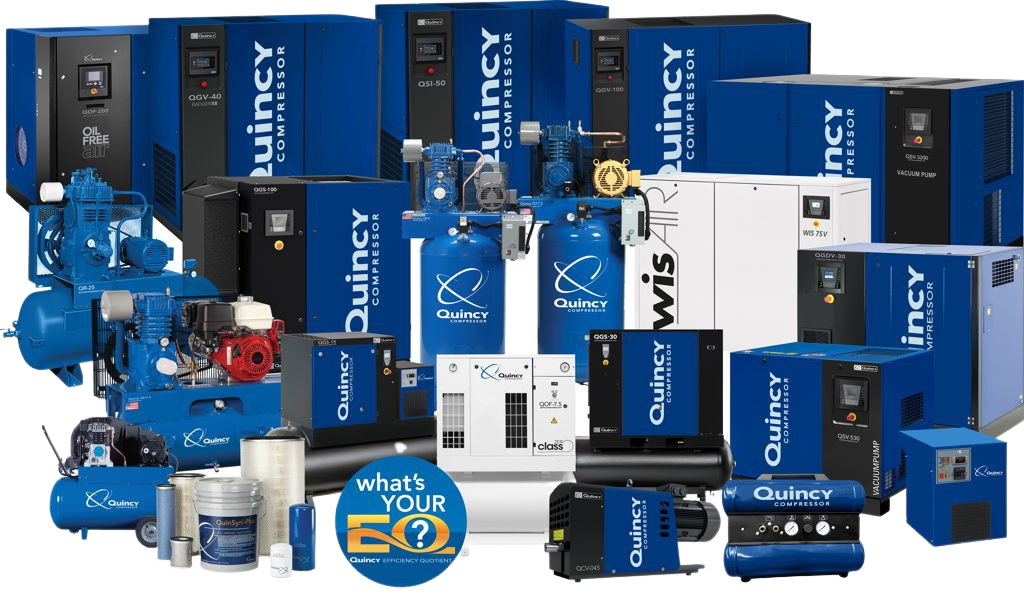 Your Home for Local Quincy Compressor Sales in Roswell
Quincy compressors are suited for practically any commercial or industrial purpose. We have portable compressors for small-scale shop use, heavy-duty stationary units for critical processes and various specialty systems for specific jobs. Our experts will work hard to determine which delivers the best fit for your business.
Systems in our regular product catalog include:
We have many types and model systems available. We can also assist you in modifying your system and output with various upgrades and accessories. Our knowledgeable air experts will help you overcome virtually any challenge with the added advantage of custom design. Talk to us about your goals, and we'll take care of you.
Commercial Air Compressors You Can Count On
At Quincy Compressor, we have over 100 years of continuous design and manufacturing experience to bring to the table on every unit, install, service and consultation. The systems we design are made in the USA in an ISO-registered facility and built to withstand demanding operating conditions. They're also backed by superior warranty protection and supported by a team of experts right here in the local area.
Shop Quincy Compressor Parts for Sale
When it's time to perform your scheduled services, go with solutions you can trust. Our store location has genuine Quincy parts and consumable maintenance fluids engineered for your system. Using genuine parts is one of the best ways to ensure your machinery delivers the performance you expect and lasts a long time. An expert will help you select the products required to perform the services you need for a fast and simple shopping experience.
Your Trusted Partner for Air Compressor Service in Roswell
Whether you need warranty service or want added protection for your system, our Atlanta location has you covered with service and repair solutions from trained Quincy experts.
Service Agreements
We offer several cost-effective service agreements to ensure your air compressor system gets the care it needs — on time and with the right supplies. These plans vary in complexity, with benefits like professional service, fixed parts costs and extra warranty protection available.
Compressor Repairs
If you need air compressor repair in Roswell, Georgia, we are available 24 hours per day. Our mobile compressor repair technicians understand your urgency and will work quickly to deliver a fast, quality and dependable repair using recommended service processes and genuine parts.
Contact Us for a Quote
Find out how we can help you take advantage of our solutions to save time, reduce costs, gain efficiency and become more productive. Visit our nearby store location to get started, call 855-978-4629 or contact us using our form.
What Our Customers Say About Quincy
Personable and knowledgeable technician with excellent customer service skills.
– Mark, Georgia