Many businesses in and around Sinton, TX, need air compressors to manufacture their products, operate their machinery and perform other essential tasks. The Quincy Compressor store in nearby Corpus Christi is a full-service distributor of the most technologically advanced and reliable compressed air equipment in the industry.
Quincy Compressor has been designing and producing high-performing air compressors and related products since 1920, and the company continues to be an industry pioneer. The Quincy QOFT oil-free compressor received the prestigious Plant Engineering Product of the Year Award in 2020 in the compressed air category — a testament to our ongoing commitment to innovation.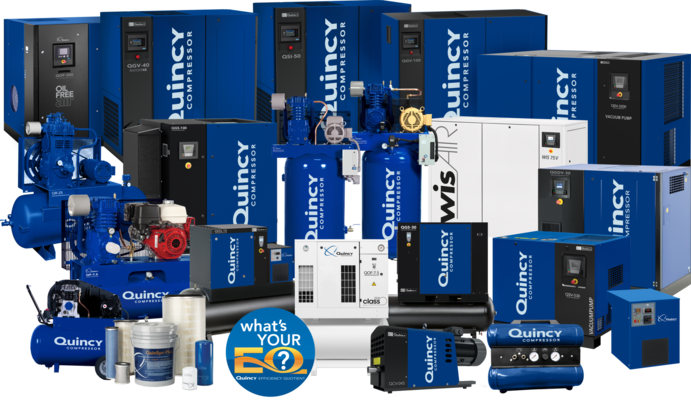 Find the Right Product for Your Compressed Air Applications
Our vast inventory of air compressors for sale in Sinton, Texas, includes products that fill a wide range of needs. You'll find models in multiple sizes, configurations and capacities in the following categories:
Our authorized partners in Corpus Christi can make the selection process easier. Because we understand your business, we can recommend the best product for your applications and budget, ensuring the long-term results you expect.
Quality Is Always the Top Priority at Quincy Compressor
You want to be sure the air compressors you buy for your business will perform well and stand the test of time. To help customers fulfill this, Quincy manufactures equipment that meets the highest standards for quality and reliability. Our ISO 9001-registered facility implements repeatable processes and stringent quality control measures that ensure consistent results. And with our industry-best warranty coverage, you can make your purchase with total peace of mind.
Prompt Service for Air Compressors Near Corpus Christi, Texas
Our proximity to Sinton enables us to respond whenever you have an air compressor repair issue. Our 24-hour service minimizes downtime and can put your mind at ease. We also carry an extensive inventory of replacement parts for Quincy products. Just let us know what you need, and we'll have it for you as soon as possible.
Explore Your Options for Quincy Compressors in Sinton, Texas
Visit the Quincy Compressor at 4902 Ayest St. in Corpus Christi for a closer look at our air compressor product lines. You can also contact a local representative by phone at 855-978-4629 or request information online by filling out and returning our contact form.