If air compressors are an important part of your commercial processes, let us provide you with one you can depend on for performance and longevity. Quincy Compressor is your local home for air compressors in Smyrna, Georgia. We're also your one-stop shop for parts, service and warranty support. See what you can gain when you work with an industry leader.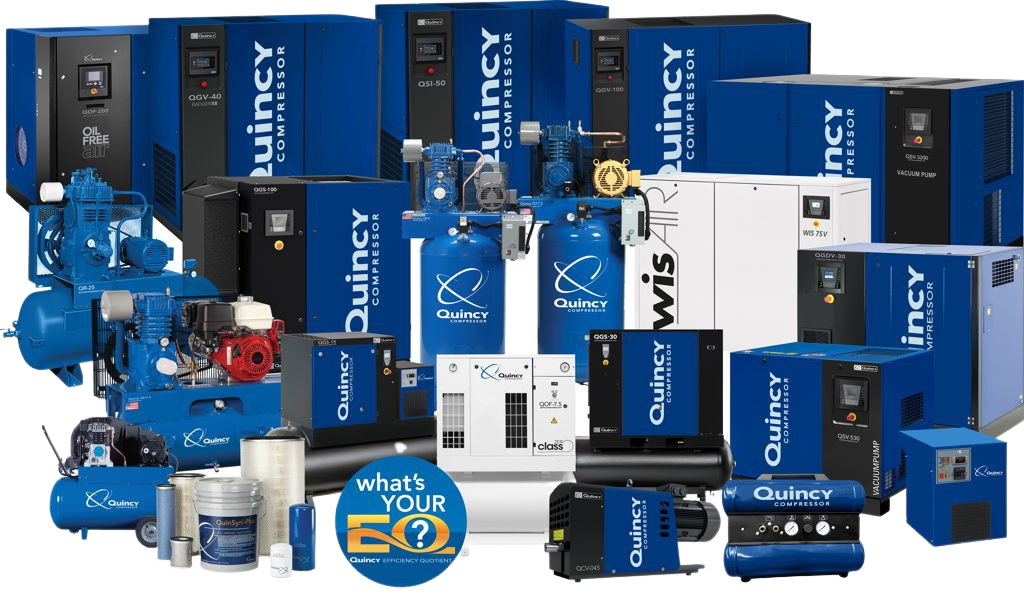 We Have a Large Selection of Air Compressors for Sale in Smyrna, Georgia
Every business is different. System requirements vary by industry and business size, and we have solutions that fit with an impressive line of machines. The knowledgeable air experts at our Atlanta store location will guide you through the different systems we manufacture to determine which will best meet your needs and provide you with the greatest return.
Our full product line includes single- and multi-stage air compressors in portable and stationary designs. Natural gas, oil-free, rotary screw and reciprocating systems are available, with outputs ranging from one-third to 350 horsepower. Additional products, like filters, condensate management systems, dryers and piping are also available for designing a custom configuration.
What Makes Quincy Systems the Best?
Having the right air compressor makes all the difference, and Quincy systems set the standard. Our compressors are proudly built in the USA. They're manufactured in an ISO-9001-registered facility using precise controls and repeatable processes to deliver the performance you demand and reliability you trust.
Our company has over 100 years of continuous experience designing and manufacturing innovative compressor systems for the commercial market. Our units also come with the support of unmatched extended warranty protection and a team of experts committed to making sure you have everything you need.
Find the Genuine Parts You Need
Finding the parts you need to keep your system running in peak condition is easy when working with our team. We are a manufacturer-direct location. At our Atlanta store, you'll find an extensive selection of genuine Quincy compressor parts and consumable maintenance fluids and expert assistance finding what you need.
If you have a scheduled compressor service or repair you need to perform, talk to our team. We'll help you get everything you need in one trip. We can also save you the time and effort of pickup by enrolling you in automatic delivery through our Parts Guardian program — a simple and cost-effective way to care for your machine.
Get Comprehensive Air Compressor Services in Smyrna
We are a manufacturer-direct location. Our experts know your compressor better than anyone, and you can let us take care of it through one of our available maintenance programs. Our Preventive Guardian, Complete Guardian and Fixed Price Services include on-site technician support and parts at a fixed rate. Enroll, and you can benefit from more uptime, reduce your operational costs and even add more time to your warranty. Efficient 24-hour compressor repair service is also available as a lifeline during emergencies.
Start Browsing Air Compressors in Smyrna, Georgia
Contact us today to take a closer look at our products and services and request a quote. Message us to start a conversation, or call 855-978-4629.