Finding the right air compressor for your business is easy at Quincy Compressor outside Snellville, Georgia. We are your area representatives for the entire Quincy line. We are also home to a team of experts who are qualified and capable of servicing your machine and keeping it in peak condition. Partner with us, and we'll help you find a solution you can depend on for years to come.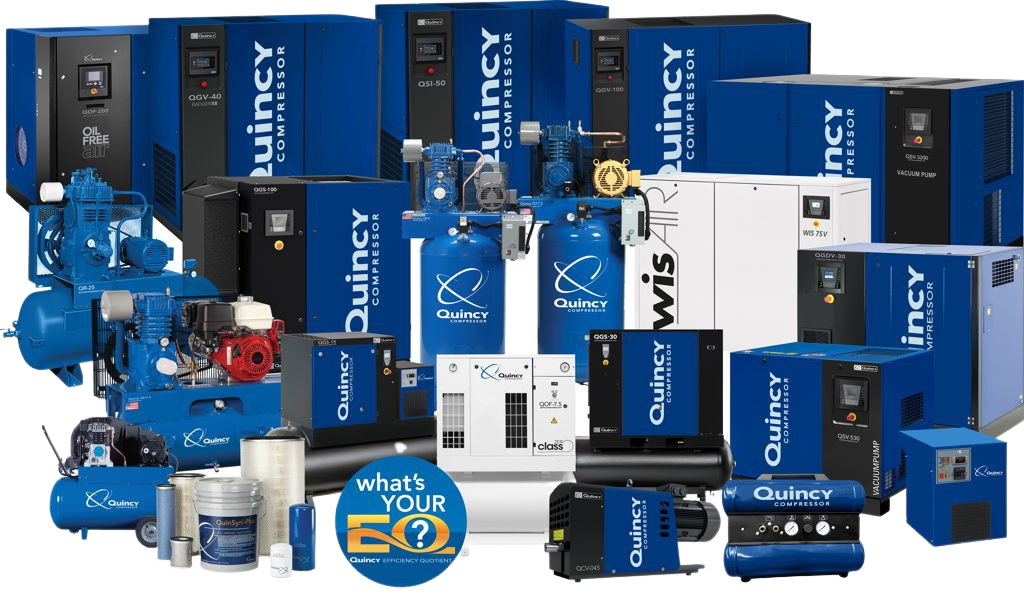 Shop Air Compressors in Snellville, Georgia, for Every Application
We work with businesses of all sizes to deliver cost-effective solutions. Our experts know how our systems apply to different commercial and industrial applications and will help you determine which best matches your specific needs. We simplify the entire process, beginning with an expert one-on-one consultation and continuing through a professional, turnkey installation.
Single- and multi-stage units are available, as are portable and stationary models. We also carry additional products you can use to optimize your system and end-user output, including dryers, filters, condensate management systems, remote monitoring technologies and aluminum air system piping. Talk to our experts for assistance with navigating our entire product line.
The full Quincy Compressor product catalog includes:
Vacuum pumps.
Air treatment products.
Oil-free air compressors.
AIRnet air system piping.
Natural gas air compressors.
Rotary screw air compressors.
Reciprocating/piston air compressors.
Once you choose your system, we make it easy to keep it in peak condition with a complete selection of genuine parts and fluids available at competitive prices. These products are engineered for your equipment. They will help you get better performance and a longer system life span than aftermarket alternatives. Speak to the team at our Atlanta store for assistance locating what you need.
Let the Experts Handle Your Air Compressor Services in Snellville
When you purchase a Quincy system, you have the option to enroll in one of the cost-effective service programs we offer. We have selections to fit every company and operating schedule, including our Guardian plans and our Fixed Price Services agreements.
Some benefits you can gain through enrollment include:
Cost savings: Our service plans can help you save on parts, administrative, energy and overall lifetime costs.
More uptime: With the right coverage, you can enjoy up to 16 more full days per year of reliable system uptime.
Expert care: Several plans include having your compressor's scheduled services performed by a trained technician.
Added protection: In some instances, a service plan can provide you with up to five more years of warranty protection.
Emergency Air Compressor Repair in Snellville
In addition to preventive services, we also perform emergency repairs. Let us know if you experience unplanned downtime day or night, and we'll quickly dispatch a mobile technician to bring you back online. Our air compressor repair services are available 24 hours per day to help you stay productive.
Take Advantage of What We Offer
The best way to find out what our systems can do for you is to talk to our team. Visit our store location to get started. You can also fill out our contact form for assistance or call 855-978-4629.