Companies across many diverse industries use compressed air in their everyday operations. However, these processes will only run smoothly when performed by dependable, durably built air compressors from a trusted manufacturer. When you invest in high-quality compressors for your industrial applications, you'll produce better outcomes for your company while minimizing the risk of downtime.
If you need leading-edge air compressors for your South Carolina business, Quincy Compressor can produce equipment to meet your requirements. We're known for manufacturing rugged and efficient air compressors engineered for decades of service, even in harsh conditions. We uphold a legacy of innovation spanning over a century, making Quincy Compressors the highly experienced providers you can depend on.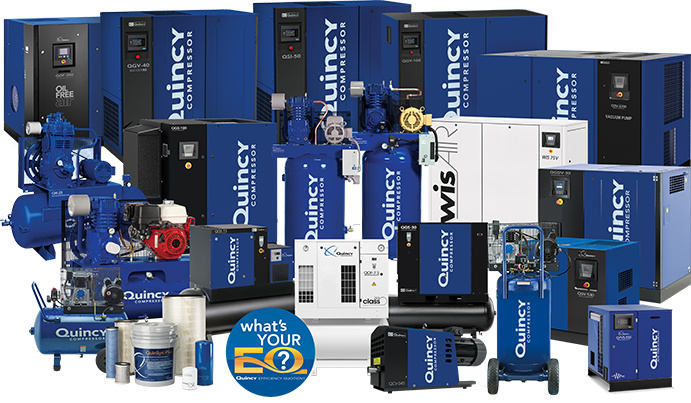 Quincy Air Compressors in South Carolina
At Quincy Compressor, we offer an expansive selection of top-quality air compressors and parts that ensure your business operations progress efficiently. Our superior products exhibit exceptional durability and longevity, giving them the power to perform in even the toughest industrial environments. We applied our decades of design and manufacturing breakthroughs to our compressor products, giving them their reputation for optimal reliability, leading performance and exceptional quality.
We carry many types of air compressors in South Carolina that you can choose from based on your application needs. Our options include:
Versatile Air Compressors for Your South Carolina Facility
As leaders in our industry, we have an extensive knowledge base that allows us to understand and respond to our customers' individualized needs, no matter their industries. That's why we provide expert assistance to set companies up with compressed air solutions that best reflect their objectives. We also offer around-the-clock customer support with the help of our local partners, enabling businesses to get back on track with minimal downtime.
Our industrial air compressors and components are manufactured to serve the needs of almost any industry. Our versatile and high-performance air compressors benefit companies working in:
Dry cleaning
Manufacturing
Pharmaceutical
Textiles
Automotive
Mining
Food and beverage
Plastics
Aerospace
Oil and gas
Plumbing
Energy
Our Convenient South Carolina Service Locations
As a South Carolina resident, you can find our air compressors across the state. We have a network of authorized dealers to assist you, and you can visit us at our direct location in Greenville. Our Greenville store is conveniently located near several cities, such as:
Parker
Berea
Mauldin
Gantt
Greer
Taylors
Simpsonville
Easley
Spartanburg
Get Connected With Quincy Service Providers in South Carolina
If you're in the market for dependable, long-lasting air compressors for your South Carolina business, Quincy Compressor has the superior solutions you need. We manufacture industry-leading compressed air products known for their legendary performance and reliability across dozens of industries. Our solutions are also covered by our comprehensive warranty program. When you purchase our robust compressors, you can expect decades of efficient operation that will transform your business's efficiency.
Find a Quincy dealer near you or contact us to connect with our industry experts today!