Air compressors are vital for industries ranging from agriculture and energy to manufacturing, pharmaceuticals, plastics and many others. Do you need reliable compressed air equipment for your business in the Tuckahoe, VA, area? The Richmond location of Quincy Compressor is just a short drive down I-64.
Quincy Compressor has been a leading compressed air equipment manufacturer and innovator for more than a century. Companies throughout Virginia and the United States and around the world depend on Quincy products in their daily operations. These advanced machines deliver the ideal combination of performance and efficiency for any application.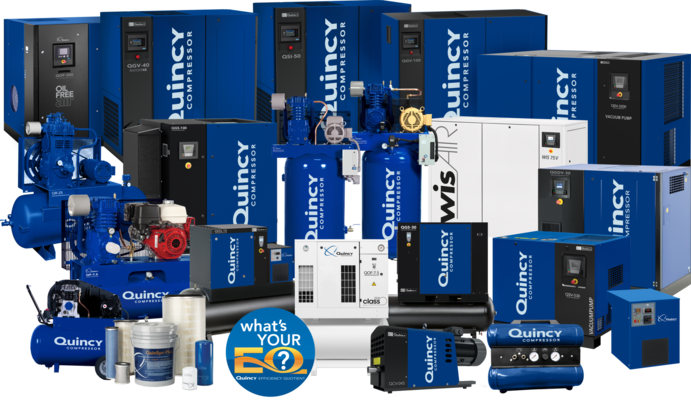 Our Extensive Product Line in Tuckahoe
Our convenient Richmond location is your one-stop headquarters for a full lineup of brand-new air compressors for sale in Tuckahoe. You'll find an array of products comprising the following categories:
As a full-service distributorship, our Richmond store can also assist with product selection, ensuring you purchase the right air compressor for your applications and budget. You can even take advantage of our industry-leading warranties that deliver maximum long-term value and protection.
Reliable Equipment That Stands the Test of Time
You want to feel confident that your air compressors in Tuckahoe, Virginia, won't let you down when you need them the most. We manufacture every Quincy product in the USA in our ISO 9001-registered facility under tightly monitored conditions. Our repeatable processes ensure consistent results for every product run — that's quality you can trust.
Expert Repair Service Is Available to Tuckahoe Customers
If you ever experience a mechanical issue with your compressed air equipment, we can be there quickly to correct the problem. We even offer 24-hour emergency service to minimize unproductive downtime. Our authorized dealer reps in Richmond can fix everything from small leaks to more significant malfunctions and restore your compressors to their peak operating condition.
When it's time to replace worn or aging parts, we carry just about everything you need. Using genuine Quincy parts also keeps your warranty coverage intact.
Contact Us to Learn More About Air Compressors in Tuckahoe, Virginia
Visit the Quincy Compressor store in Richmond today to see our air compressors in person and meet our distributor partners. You can also request additional information by calling us at 855-978-4629 or filling out and returning our online contact form.