Air compressors are essential for many businesses in the Williamsburg, VA, area. If your company is in the market for new and dependable compressed air equipment that you can trust, turn to the professionals at Quincy Compressor.
Quincy is one of the most well-known and respected brands in the compressed air industry — that's been the case since 1920. Our authorized dealer location in nearby Richmond carries the latest Quincy products for numerous applications. You'll also receive excellent service to keep your equipment on the job and delivering the results you expect.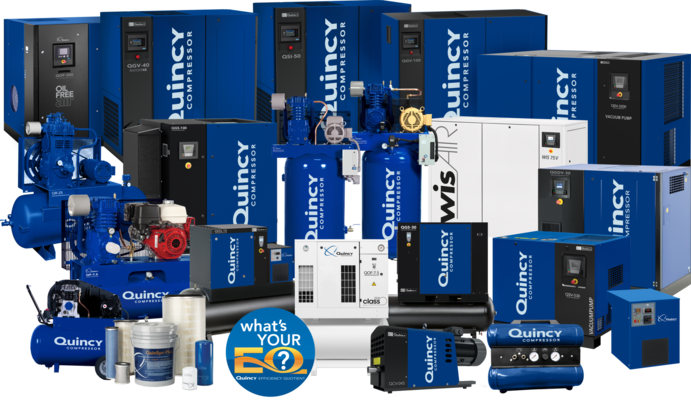 Choose From an Assortment of Air Compressors for Sale in Williamsburg
Our convenient Richmond location is your one-stop headquarters for a wide range of technologically advanced Quincy products to serve Williamsburg companies like yours. We offer multiple options in the following categories:
Our authorized partners can help you evaluate all your equipment options so you can make an informed purchasing decision. You can also get comprehensive warranty coverage — ours is the best in the industry — when registering your new air compressor online.
Our Quality Makes a Difference
With our unwavering focus on quality, you can trust your air compressor to handle your most demanding applications. You can also expect many years of reliable service.
We manufacture all our products in the USA — unlike some other manufacturers, we don't rely on overseas outsourcing. Keeping the production process in-house allows us to monitor quality closely and deliver consistent outcomes from one production run to the next. You'll always know what you're getting when you buy a Quincy model.
Excellent Service for Your Air Compressors in Williamsburg
We'll also be there to take care of your air compressor equipment for as long as you own it. We can handle any air compressor repair in Williamsburg, from minor adjustments to more complex projects. You can even count on us to be available around the clock for emergency service. We also carry all the replacement parts you'll need to maintain your compressors and maximize their life span.
Visit or Contact Us to Learn More
Feel free to stop by our Richmond location to see our air compressor lineup in person and meet our professional and knowledgeable air experts. You can also call us at 855-978-4629 or complete and return our online contact form for additional information.