Are you looking for an experienced, reliable air compressor company near Woodlake, VA? You only need to travel about 30 minutes to Richmond to visit your local Quincy Compressor dealer.
Quincy has been the standard-bearer in the compressed air industry for more than 100 years. Your authorized Quincy representative in Richmond carries a complete lineup of air compressors and related equipment for companies in industries ranging from automotive and aerospace to construction, manufacturing, energy and many others. You'll also receive top-notch service to maximize your customer experience.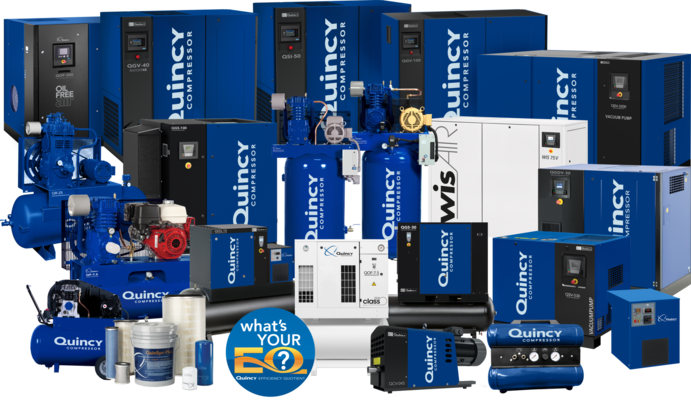 Choose the Right Air Compressor in Woodlake, VA
The Quincy Compressor Woodlake inventory consists of the most advanced compressed air solutions in the marketplace. They feature the latest technology, which ensures superior performance and dependability in the most demanding operating conditions. You'll find multiple models comprising the following categories:
Our authorized partners in Richmond can help you determine the right equipment for your applications and budget. You can also take advantage of our industry-best warranty to protect your purchase and receive peace of mind. Just register your new compressor online, and you'll be eligible for the coverage.
Our Focus on Quality Sets Us Apart
Quincy Compressor is proud to be an American company that doesn't outsource our manufacturing processes overseas. We maintain tight control over every step performed in our ISO 9001-registered facility in Bay Minette, AL, ensuring consistent, repeatable results. You'll receive a durable air compressor that will help you meet your business objectives and reduce your operating costs.
Comprehensive Service for Air Compressors in Woodlake
Because our Richmond facility is so close to the Woodlake area, we can provide prompt repair service, even during an emergency. You'll have confidence knowing a local dealer who understands your business is there to take care of your essential compressed air equipment.
We also carry a wide assortment of replacement parts for Quincy models. Count on us to have what you need to keep your air compressors on the job and performing at a high level.
Contact Us to Learn More About Your Air Compressor Options
We invite you to stop by the Quincy Compressor location in Richmond to see our equipment in person. You can also request additional information by calling our authorized dealer reps at 855-978-4629 or filling out and submitting our online contact form.