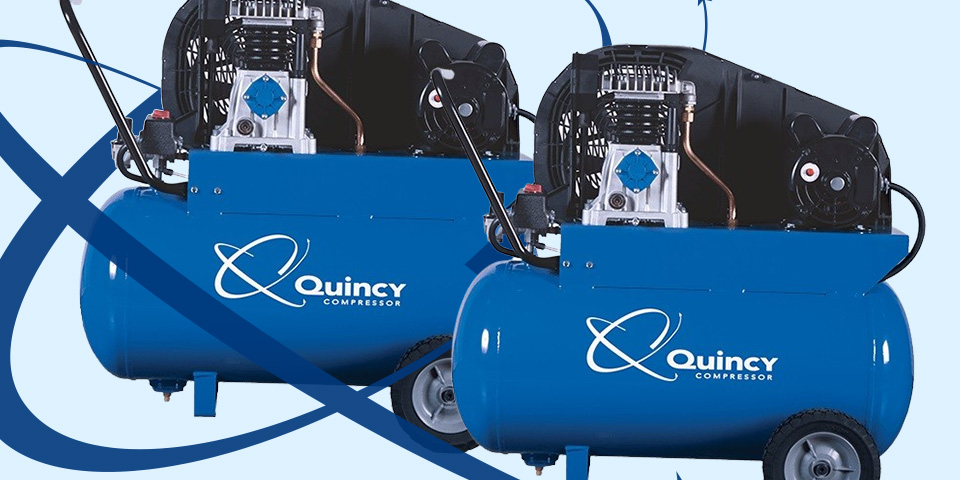 When you need efficiency and industry-leading power in a small package, look no further than Quincy Compressor's portable air compressors. Our compressors are suited for home and DIY use while still providing the reliability and power necessary for commercial applications. We build our compressors for the long haul, delivering great value in almost any situation. We also back our products with an industry-leading warranty option, so you can feel confident in the value and service we deliver.
If you're searching the market for a reliable, new portable air compressor, keep reading to discover why Quincy is the brand of choice for demanding customers.
How Portable Compressors Work
The majority of portable compressors — including those manufactured by Quincy — feature a single-stage, reciprocating/piston design. Piston compressors work by forcing air through an inlet valve into a cylinder, where the reciprocating motion of a piston compresses it. Once it compresses the air to the desired level, it activates a discharge valve, sending it out to power a tool or whatever attachment to which the unit will be connected.
Single-stage compressors feature a single valve and piston assembly. This makes them smaller, lighter and more portable, but limits the amount of power the unit can provide. For this reason, they are most commonly used in garages, workshops, construction sites and other applications where you can sacrifice continuous power for the sake of value or portability.
Parts for Portable Air Compressors
Each portable air compressor is different, but most models have several common parts, depending on the design. Quinyc single-stage portable compressors feature key portable air tank parts, including:
Motor: Electric motors power portable air compressors. Like automotive engines, air compressors receive ratings according to the motor's horsepower. However, not that a more powerful motor does not necessarily mean the compressor can power more tools or deliver more pressure.
Valve/piston: The compressor's motor drives a valve and piston assembly. This assembly draws the air into a chamber before compressing it. You can measure a compressor's effectiveness in completing this process in both capacity (CFM) and pressure (PSIG). Many portable units use a single-stage design, which means the model has one valve and piston assembly. Multistage configurations are more common on stationary models and contain a series of chambers and pistons. Two-stage configurations are better suited for applications needing higher pressure and greater capacities.
Storage tank: The storage tank holds compressed air until you need to use it. Larger storage tanks allow you to go longer periods without running the compressor motor. However, larger storage tanks also increase the unit's footprint, making the model less portable because it takes up more space. We measure this capacity in liters or gallons.
Finding the Right Product for Your Needs
To select the best portable air compressor for your application, you should consider the following factors:
Capacity: The capacity of a compressor is the amount of air a unit can produce, measured in CFM (cubic feet/minute). A higher CFM rating means a unit will be able to power more tools at once.
Pressure: We measure compressor pressure ratings in PSIG (pounds per square inch gauge). Most tools require a continuous pressure of 90 PSIG to operate properly. Other applications require higher or lower pressures. Be clear on your requirements before making a decision.
Power: The horsepower (HP) of a portable compressor is not directly related to its pressure or capacity; rather, it refers to the efficiency of the unit's motor. More horsepower is required to drive higher capacity or higher pressure compressors, though a high horsepower unit with low CFM or PSIG ratings will be inefficient and costly to run.
Other things to consider include tank size, whether you want a unit powered by gas or electricity and whether you'll be working in a sensitive environment where an oil-free design is necessary. For more information about Quincy compressors, visit individual product pages, where you can find detailed specifications and potential applications.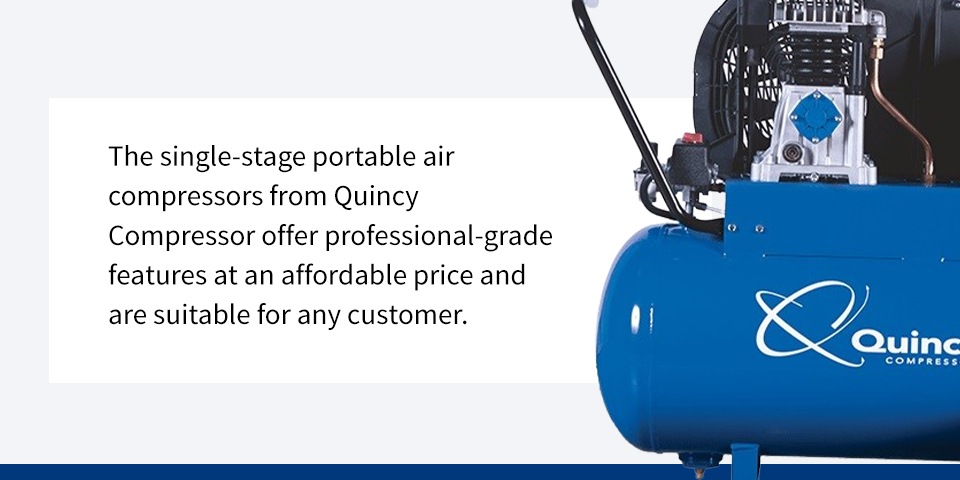 A Glance at Quincy Portable Compressor Products
The single-stage portable air compressors from Quincy Compressor offer professional-grade features at an affordable price and are suitable for any customer. Our units boast features including:
A cast-iron valve plate, cylinder and crankshaft to deliver enhanced durability and strength
Aluminum fin and head design for boosted heat dissipation, which reduces wear on the motor
A standard ¼-inch pressure regulator with working pressures ranging from 110 and 135 PSIG
ASME-standard safety valves and a fully enclosed belt guard
Let our team match you with the right portable air compressor for your needs. Contact a sales representative in your area to discuss your intended application today.
At Quincy Compressor, we are also proud to offer high-quality portable air compressor parts.
How to Choose a Portable Air Compressor for DIY Household Maintenance
We've all had those projects around the house that were just too difficult to complete without a professional air compressor. Whether you're working on your car, inflating bicycle tires or painting, a portable air compressor is an excellent investment that will make it easier to complete a wide range of DIY maintenance projects.
What type of air compressor should you look for to help you complete your DIY projects?
Possible Projects Around the House
You can complete household maintenance projects without a portable air compressor, but why would you put in the extra effort when a little compressed air can make these jobs so much easier?
Inflating: Whether you're trying to inflate bicycle tires, car tires or sports equipment, a portable compressor could make the job easier. Plus, it will save your arms — no more handheld pump for you.
Installing: Hardwood floors, trim and crown molding are great options for adding a bit of class to your home, but without a portable compressor and a nail gun, you're left placing each nail and hammering it in by hand. For a large area of hardwood flooring or trim, this could take hours.
Repairing: Do you need a snazzy new fence to surround your property, or do you have one already that is just in need of some repair? A portable compressor, again paired with that nail gun, could make this job a breeze.
Painting: You're already dreading breaking out the brushes and rollers, aren't you? If you're painting, why not let compressed air do the work for you? Just attach an airbrush to your portable air compressor and go to town — you might never buy another paintbrush, especially since you can use it to paint just about everything from furniture to walls.
Possible Projects in the Garage
If you like working on your cars, a portable air compressor is probably already on your wish list. You can use it for all sorts of things, including:
Tires: Trying to break loose a lug nut on a tire with just the little bitty lug wrench that comes with your car is a nightmare unless you're a bodybuilder. Get it done with no effort at all with your air compressor and an impact wrench.
Maintenance: An air ratchet can be just the thing to break loose those stubborn bolts, or the ones that are just too hard to reach. Instead of busting your knuckles on stuck bolts, bring your compressor along.
Painting: Just like painting your house, you can use your portable air compressor and an airbrush to paint your car. Get a shop-quality paint job in the comfort of your own garage.
How to Pick a Portable Air Compressor
How can you find the perfect portable air compressor that fits your need? You need to consider four things:
Compressor use: Are you painting, nailing, working on your car or just inflating some tires? Or are you looking for a multipurpose compressor you can use for all these tasks and more?
Tool or tools you need to power: Inflating tires requires an inflator. Nailing floorboards requires a nail gun, and working on cars requires a variety of different impact tools.
The tool's CFM and PSI: Air compressors have two ratings, other than the tank size — the CFM or cubic feet per minute, and the PSI or pounds per square inch. The CFM determines how fast the air is delivered to your tools — some tools require a higher CFM than others. The PSI determines how hard your tool drives — how much power is behind that impact wrench or air hammer.
The tank capacity: This variable determines how much air your portable tank can hold before it needs to be refilled. The higher the tank capacity, the longer you can work before you run out of air.
How to Use the Portable Air Compressor
For inflating tires, all you need is a three-gallon tank, unless you're running a bicycle repair station and are inflating tires all day long. In terms of CFM and PSI, you don't need a ton of either. Most inflators only require about 0.5 CFM. A 90 PSI tank is more than sufficient for these needs.
For nailing, the tool you'll need will depend on the job. Flooring nailers are very lightweight pieces of equipment, requiring only 0.2 CFM. Framing nailers, on the other hand, require a little more power — around 3CFM. For running nail guns, you probably shouldn't need more than a four-gallon tank.
Auto work requires quite a bit of power to run the equipment. An air ratchet, for example, requires an average of 6CFM. The same is required for an impact wrench. Air hammers only require slightly less, coming in at 4CFM.
It's important to check your particular air tool for its specific CFM requirements. Auto work requires the most air storage, so you're probably going to need something in the range of an 11-gallon tank or larger. Painting is the most CFM intensive activity. Most paint guns will need between 6-7 CFM and an eight-gallon tank to get the job done.
It is important to note the CFM of your tools — every air tool will have an average CFM rating. The numbers we've provided are only estimates. To get the best results out of your portable air compressor, look for one that provides 30-50% more CFM than your tools call for. If you're going to run more than one tool, combine their required CFM and purchase a compressor that is 30-50% higher than that combined number.
Portable Air Compressor Maintenance and Care
Routine maintenance and inspections are essential for taking care of the many parts of your portable air compressor. These practices ensure you maintain the viability of your unit's warranty while reducing the possibility of unexpected downtime as a result of equipment failure.
Although every compressor has unique maintenance requirements, common service items often include tightening fasteners, cleaning intake vents, changing the air and oil filters when necessary, cleaning the fuel tank and checking hoses. These routine practices will allow you to identify potential issues before they can grow into costly problems, saving you money and helping you maintain uptime.
The Quincy Compressor NO-BULL Warranty
Quincy portable air compressors have low care and maintenance requirements, and we back them with an extensive warranty that stands out in the business. Our three-year NO-BULL extended warranty option has everything you need to deliver routine care for your compressor while saving up to 15% on what you would spend to purchase replacement compressor parts individually.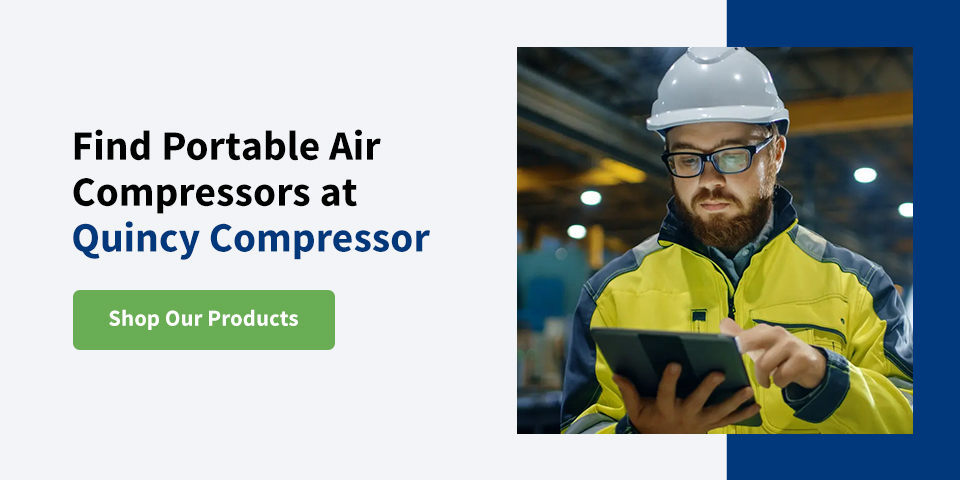 Find Portable Air Compressors at Quincy Compressor
Quincy Compressor has an established reputation for engineered solutions and providing uncompromising reliability. Our legacy spans over 100 years, empowering us to gain the experience and knowledge we need to thrive in this industry. We manufacture our products to the highest standards possible so you can feel confident in our service and quality. Shop our compressor products for the performance and reliability you need to do your best work.
Last Updated on July 17, 2023 at 7:40 AM