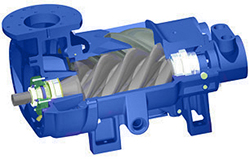 QSG 25-600 hp Direct Drive Gas Compression Module
The Quincy QSG features a triplex bearing arrangement with an L-10 calculated life of 130,000 hours, exceeding average life expectancy of competing compressors. Large diameter, slow turning rotors deliver maximum efficiency and Quincy's QSG rotary screw offers state-of-the-art rotor profile for maximizing gas flow and minimizing horsepower.
At a Glance
16 models to 600 hp
Extensive coverage
Capacity control to 50%
Adaptable to various drivers
1-Year Warranty
Up Close
Flows to 4.0 MMSCFD
Ps to 50 psig / Pd to 210 psig
4 lift valves, 12.5% control steps
Replaceable mechanical seal
Gear-driven lubricant pump
Direct drive – no gearing
Quality You Can Count on, Year After Year
Quincy has been a leader and innovator in the field of rotary screw compressors for more than 80 years. Our flagship product, the Q-25, has a longstanding reputation as an industry workhorse.
The QSG lineup of direct drive compressors builds on this history, adding fuel-efficient natural gas power and a number of other exclusive features, such as a highly efficient rotor profile that has been precision machined and subjected to the highest level of quality control in our Bay Minette, Alabama manufacturing facility. Heavy-duty cast iron cylinders with horizontal cooling fins have been engineered for optimal performance and a high volumetric efficiency. In addition, a sophisticated pressure lubrication system features rebuildable connecting rods and low-lift valves.
Together, the above features contribute to a durable, versatile compressor that is perfectly suited to a wide range of potential applications.
A Versatile Direct Drive Gas Compressor
QSG series compressors are available in various sizes and configurations to support multiple potential applications. 16 core models are available with motors delivering between 25 and 600 horsepower, producing flow rates up to 4.0 MMSCFD, Ps to 50 psig and Pd to 210 psig. Multiple engine adapters (in SAE 0, 1 and 2 sizes) support integration with practically any system. Use the QSG in harsh conditions and demanding processes, including gas gathering, vapor recovery, wellhead compression, fuel gas boosting, landfill gas and coal bed methane. Whatever the requirements of the job, your crew can fully rely on the QSG direct drive compressor.
Maintenance Made Easy
Minimizing downtime is a key priority in any industry. No matter what you rely on your QSG compressor for, maintaining productivity is dependent not only on the reliability of your systems, but also on the ease with which you can get them back up and running when service is necessary.
To simplify maintenance requirements, Quincy QSG compressors incorporate a number of exclusive features, such as a field-replaceable mechanical shaft seal. An optional positive displacement gear-type fluid pump begins lubricating the rotor shaft as soon as the compressor starts, resulting in less wear and longer service intervals for these important components.
Add a Variable Displacement Lift Valve for Even Greater Efficiency
The QSG direct drive compressor is available with an optional variable displacement lift valve, a Quincy exclusive which allows our products to function as both a base-load and part-load machine. With a variable displacement lift valve, a QSG compressor automatically adjusts flow output to match demand. The system is not actuated by internal pressure. Instead, its double-acting mechanism responds quickly and provides capacity control to 50% in four equal steps.
A variable displacement lift valve is just one of the many options available for customizing your purchase to your specific application. Other available features include a gas engine or electric motor drive, an oil and gas separator element and tank, and more. Contact a Quincy sales rep for more information.